Fr. Mark Francis first met the Viatorians when he attended Saint Viator High School. As a student he enjoyed all the benefits of a Viatorian education, from its rigorous academics, to its rich faith tradition and fine arts activities. Yet, it was the Viatorians themselves — his teachers — who made the lasting impact.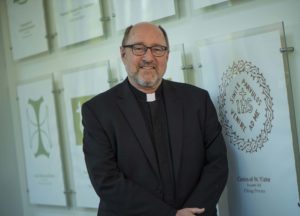 Upon graduating from Saint Viator in 1971, Fr. Francis attended Loyola University where he earned a history degree in 1975. That same year he entered the novitiate and professed his first vows as a Viatorian in 1976.
He began his ministry as a teacher, first at Bishop Gorman High School in Las Vegas before being ordained in 1982. Fr. Francis spent two years at Colegio San Viator in Bogotá, before returning to Catholic Theological Union, where he had earned his master's in divinity, to serve as an associate professor of liturgy. While at CTU, Fr. Francis developed a strong interest in the sacred liturgy and went on to earn a doctorate in liturgy from the Pontifical Liturgical Institute of Sant'Anselmo in Rome,
Fr. Francis would return to Rome in 2000, when he was elected to serve as Superior General of the Viatorians. He led the worldwide community of Viatorians for 12 years, or two terms, before returning to CTU to serve as president, in 2013.
"Being president of CTU has been a wonderful and life-changing experience," Fr. Francis says. "I will remain forever grateful to God for the privilege of this ministry. I have often said that I have had three incarnations in this institution: as student, faculty member, and president. CTU has been an integral part of my religious and ministerial life since 1978."
During his seven year tenure as president of CTU, Fr. Francis was again elected by his confreres to serve in leadership of the community. He was elected to the Provincial Council in 2017. In looking ahead, Fr. Francis will be serving as a visiting professor at Catholic University of America in Washington during the fall semester, 2021.