A Greeting from Our Provincial
First, I want to express my great pleasure for your interest in our community. I am Fr. Daniel Hall, CSV, and I have the great honor of serving as the Provincial of the Clerics of St. Viator, Chicago Province. I joined the Viatorians as an affiliate in January of 1979. During that time, I have been able to become involved in many different ministries. I have served in several parishes, in mission work in Belize, in high school teaching, counseling, and coaching, in military chaplaincy, and in provincial administration.  I think that this opportunity to become involved such a variety of ministries is one of the things which made the Viatorians so inviting to me. While each of these ministries brought different challenges, each of them brought significantly more rewards.
For me, the value of a religious community is knowing that these are the men with whom I will grow old. The bonds we have with one another are lasting. While we can move from place to place and from ministry to ministry, I know that this is home and that I have lifelong support. I came in at 29 years old — I had done quite a few other things before I decided to investigate religious life. In hindsight, I am glad that I waited because it gave me the perspective that I needed to know that this was the right decision for me.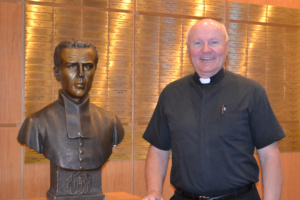 As you continue to discern where God is calling you. I pray that you are open to the Spirit and listen prayerfully to the call.  Religious life is rewarding beyond words. Since I made my decision, I have never looked back.
We are here to assist you on your journey and to help answer your questions.
In St. Viator,
Rev. Daniel R. Hall, CSV
Provincial, Clerics of St. Viator, Chicago Province
Professed Viatorians all begin as religious brothers.

Upon professing first vows, a man in formation becomes a Viatorian brother. (Read more about Viatorian formation here.) What is the difference between a Viatorian brother and a Viatorian priest? First, they have a lot in common:
Brothers and priests both profess vows.
Brothers and priests both live in community.
Brothers and priests both serve the people of God, inspired by the Viatorian charism and mission.
Additionally, all professed Viatorians begin their religious life as Viatorian brothers.
Some professed Viatorians respond to God's invitation by seeking ordination to the priesthood.
Viatorian priests are distinguished just by their priestly ordination. This means they serve the people of God through Sacramental ministry in addition to the mission and ministry of Viatorian brothers.
Many Viatorians live their entire religious life as brothers and do not seek ordination.
What do Viatorians wear?
Viatorians wear both formal dress with collar as well as plain clothes, and of course, priests wear vestments when celebrating Sacraments.
Viatorians often wear their formal dress for special occasions and official Sacramental or pastoral work; however, Viatorians often go to work in business casual clothing and attend social gatherings in everyday clothing.
Articles from the Guide to Religious Ministries
Vocation in the Catholic Church : Learn more about the various ways people answer God's invitation to serve the Church and one another.
Call to Religious Ministry : Learn more about various facets of religious life.