Fr. Mark Francis, CSV, took a break from his duties as president of Catholic Theological Union last month, to speak to a broader audience: the nearly 15,000 delegates — from 71 countries — who attended the International Eucharistic Congress in the Philippines.
Fr. Francis was one of six speakers during the two-day conference and the only one from the United States. His topic? Liturgy and inculturation, or the inclusion of different cultural influences into the liturgy and its enriching effects.
Liturgy and inculturation are of particular interest to Fr. Francis. He holds a doctorate in liturgy from the Pontifical Liturgical Institute of Sant'Anselmo in Rome, and he also taught liturgy at the Catholic Theological Union in Chicago before returning to Rome as superior general of the Viatorian Community, a position he held for 12 years.
During those years, Fr. Francis also taught liturgical inculturation at Sant'Anselmo. Additionally, Fr. Francis is the author of "Shape a Circle Ever Wider: Liturgy Inculturation in the United States."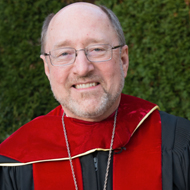 When asked about the importance of the 51st Eucharistic Congress taking place in the Philippines, Fr. Francis said that with so many Filipino people living around the world, repercussions from the symposium will be felt worldwide.
"We'll be taking a look at the importance of the Eucharist, the importance of faith and the importance of evangelization," Fr. Francis said. "We'll be examining the whole way we go about preaching the good news, in a way that's understanding to people and to collaborate with Pope Francis, who's declared this a Year of Mercy."