The sanctuary of Maternity of the Blessed Virgin Mary Church in Bourbonnais — where Viatorians have served since the Civil War — took on new life this past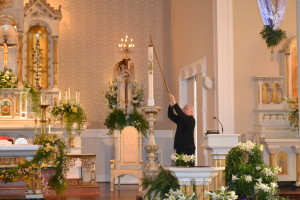 Easter season. Under the direction of Fr. Richard Pighini, CSV, pastor, the church underwent a dramatic renovation, with the ceiling cast as a starry night, with gold leaf embellishments and all in contrast with the altar and gleaming white sanctuary.
A closer look reveals the back wall, behind the altar, hand stenciled with fleur-del-lis woven into the design. The ancient symbol dates back to the French monarchy, and subtly connects worshipers with the Viatorians' French heritage. Through the ages, the fleur-de-lis also has come to represent purity and chastity and serve as an iconic attribute of the Virgin Mary, which seemed to fit with the parish's namesake.
Abundant flowers and real life lilies decorated the altar and sanctuary for the Easter season, as more renovations continue on the church. Just this fall, work has started on replacing the floor and next Easter parishioners have raised money for the installation of a new Allen pipe organ.
Behind the worship space, Fr. Pighini continues to establish a small museum, which features Viatorian artifacts from the nearby St. Viator College, which they operated for nearly 75 years, from the end of the Civil War through 1939.
It also contains a shrine to St. Marguerite Bourgeous, the French founder of the Congregation of Notre Dame, whose sisters came to help the Viatorians in the 1860s and run Maternity BVM's school.