It was a busy summer for Viatorians serving in Bourbonnais and Kankakee. Professed and associates worked together to immerse young people in service opportunities — through the Hearts of Hope Mission Trip and Camp MOSH — while continuing to build up communities of faith in their respective parishes.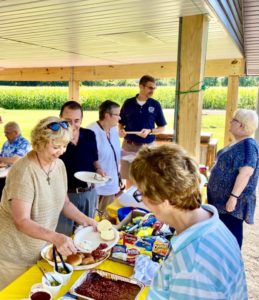 And all during the constraints of the pandemic.
Yet, earlier this month, they relaxed. Gathering in the spacious backyard of Associates Ken and Michelle Barrie, these Viatorians drew strength and renewal just from being together.
"It was a great Viatorian picnic," says Associate Paula Wasser. "We enjoyed playing bags, great food and fellowship. There was no business done — but a lot of storytelling."
Viatorians came from several parishes in the region, including Fr. John Peeters, Fr. Richard Pighini, Fr. Patrick Render and Fr. Donald Wehnert from St. Patrick Church; as well as Fr. Jason Nesbit, Fr. Moses Mesh and Br. John Eustice from Maternity BVM Parish; and Fr. Daniel Belanger from St. George.
Associates included: Susan Bourgeois, Julie and Bobby Lampley, Curt and Kathy Saindon, David and Susan Surprenant, and Paula Wasser and her husband, Tom.
"These are the happy faces," said Fr. Daniel Belanger, "of Viatorians gathering on a beautiful Sunday out in the middle of the cornfields."