We Remember. We Celebrate. We Belive. Those words captured the theme of the "grand re-opening Mass" held Sunday, outdoors, around the historic grotto at Maternity BVM Parish.
Fittingly, the Mass took place on the feast of the Assumption of the Blessed Virgin Mary, patroness of the parish.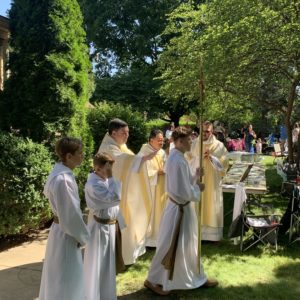 "This is a special day in the life of our parish," said Fr. Jason Nesbit, CSV, Pastor.
In a letter to parishioners he elaborated on the theme: "We remember that there are many in our community that suffered losses either directly to COVID-19, or were burdened with severe illness, often with no one able to visit . . . Most of all we remember what it was like to not be able to receive the Eucharist.
"We celebrate that we may once more gather as a parish community, and that we may resume many of our programs. We celebrate that the pandemic has broadened our creativity and challenged us to reconsider how we reach people.
"We believe that we will not return to where we once were as a parish community — but that we have been transformed by it. Because we have felt the pain of isolation and the hunger for the Eucharist, let us appreciate our renewed connections and never take for granted our place before the Lord's table. Let us believe that our coming together will bring renewal in the life of our parish and be a time of new beginnings and new possibilities."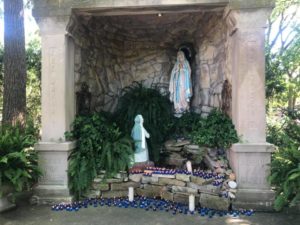 Within that context, parishioners were encouraged to reflect on how their lives had changed during the pandemic. They took turns lighting individual candles and processing up to the grotto, where they placed their prayer intentions at Mary's feet.
Fr. Jason offered a powerful homily, capturing all the ways the parish had adapted, transformed and renewed itself during this global pandemic.
"Let us renew our commitment to answer the call of missionary discipleship," Fr. Jason said, "and grow closer in our relationship with Jesus Christ and with one another."
Fr. Moses Mesh, CSV, Associate Pastor, closed the Mass with a special blessing for students returning to school — and everyone from preschoolers through college students gathered to be blessed.
Viatorians around the world strive to build communities where faith is lived, deepened and celebrated.