The Viatorians' devotion to Our Lady of Lourdes dates back 100 years, to 1915, when
Br. John Koelzer, CSV, began building a grotto near the historic Maternity of the Blessed Virgin Mary Cemetery in Bourbonnais.
Stone by stone, he and men from the parish built the grotto in the image of Our Lady of Lourdes, when she first appeared to young Bernadette on Feb. 11, 1858. It took three years to complete and was dedicated — 40 years after Mary's appearance in Lourdes — to soldiers fighting in World War I.
The grotto still remains behind Maternity BVM Parish — considered the cradle of the Viatorian Community — and over the years, it has been enhanced with flowers, benches and paved bricks, drawing countless worshippers to its peaceful and holy setting.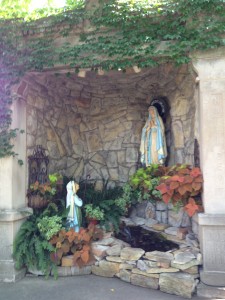 However, each year, on the feast of Our Lady of Lourdes, Viatorians remember their confrere, Br. Koelzer, and his devotion to the Blessed Virgin. His story was recorded in a history written during the Illinois state sesquicentennial celebration.
"(The grotto) stands today as a monument to the love of a holy man — and a congregation — for the mother of God."