After a day-long meeting Friday at the  Province Center, four emerged as the delegates to represent
Viatorians from this country at next summer's General Chapter, considered the most important gathering of the worldwide Viatorian Community.
Fr. Thomas von Behren, Br. Michael Gosch, Fr. Patrick Render and Fr. Daniel Lydon were elected by their confreres to fill that role. Fr. Mick Egan and Fr. Mark Francis will attend as the provincial and most recent superior general, respectively, while Br. John Eustice and Fr. Dan Hall were elected as alternates.
"We had some very fruitful discussions," Fr. von Behren said, "but at the end of the day we were all in conformity."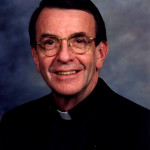 They will take their seats with Viatorians elected from around the world. Among their agenda items will be electing the next Superior General of the worldwide community and two of his councilors.
Ultimately, they will be making sure the community conforms with its founder and constitution. Issues on the table include looking at religious life, governing structures, mission, finances and international solidarity.
Each General Chapter happens only once every six years. Its meetings spans three weeks and while it traditionally has taken place in Rome, this year's session will take place in Mundelein, IL, site of the major seminary of the Archdiocese of Chicago.