Fr. Daniel Hall, CSV, Provincial, still remembers when the red sugar maple tree was planted on the Province Center grounds. It was in 2007, and was a gift from Viatorians in Canada, to mark the 125th anniversary of the Province of Chicago.
"It was my height when it was planted," Fr. Hall says. "Look at it now."
Some 15 years later, the sprawling tree is nearly 40-feet tall and is as beautiful in the summer, with its leaves of green and yellow, as it is in the fall, when it turns a magnificent red. The tree is located in the center of the Province Center grounds and is visible from the main dining room.
An engraved plaque stands at the base of the tree, documenting the gift and when it was planted. However, as time goes on, the tree continues to thrive and share its many colors with Viatorians and their visitors.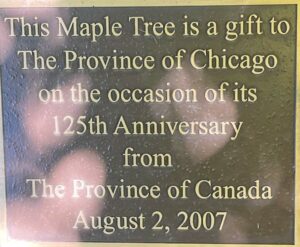 In all, there are approximately 100 trees spread out across the Province Center grounds. Most were chosen deliberately for their vibrant color, by Steve Burks, the former director of building and grounds for the Viatorians, who passed away in January. Going forward, Fr. Hall says, new trees will all be hardwood trees, such as oaks, maples and walnut trees. Hardwood trees are more durable and will feature lots of color.
"I just love this," Fr. Hall says looking across the campus. "Such beautiful tranquility, right in the middle of Arlington Heights."