Parishioners at Maternity BVM in Bourbonnais are celebrating the parish's 175th anniversary this year, and what better time to undertake a major restoration project aimed at preserving this landmark church.
Fr. Jason Nesbit, CSV, Pastor, informed parish members in April of the significant deterioration taking place around the church grounds and the need to reverse the damage. Work started later that month and it is expected to continue throughout the summer.
"In order to focus on our mission, we need to have the home to do it," Fr. Jason said. "We want it to be a place that is hospitable, welcoming and safe — and we want it to be our home for some time to come."
The project started with tuckpointing the church. While the parish dates its founding back to 1847, the current church was completed in 1858, built by parishioners themselves with stone drawn from neighboring river beds and quarries. Viatorians have served at the parish since 1865, and as a result it is known as the "cradle of the Viatorian Community."
Fr. Jason described the tuckpointing as as an important step in prolonging the life of the church, by stopping the corrosion of the mortar joints and restoring the masonry.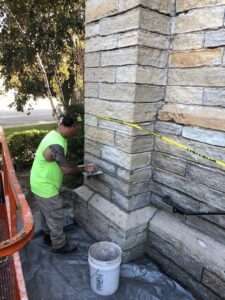 That's just the start. The front door of the church is being refinished, new landscaping is being added to enhance the front plaza and smaller maintenance issues are being addressed. The church's steeple also will undergo restoration as well as decorative arches that support it.
A major component of the project is tuckpointing the parish's iconic grotto. It was built in 1918 by Br. John Koelzer, CSV, with the help of parishioners and modeled after the apparition of Mary to Bernadette at Lourdes. In preparation for its tuckpointing, all of the stones and dirt were removed, while the memorial bricks that surround the grotto are being power washed.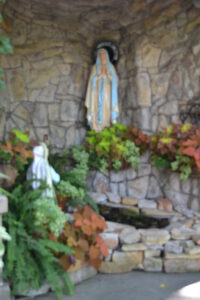 The two statues that are the focal point of the grotto were moved to a safe place. The statue of Bernadette was recently restored and the same is being done to Mary, to reverse her peeling paint.
"We have to make sure that these two treasures are taken care of," Fr. Jason said, "to serve the faithful of Bourbonnais for many years to come."