Viatorian vocations in Colombia continue to grow. The latest vow ceremony took place Friday in the chapel at Colegio San Viator in Bogotá, where Br. Diego Carvajal professed first vows before Fr. Daniel Hall, CSV, Provincial.
The ceremony drew members of his family, associate and professed Viatorians in Colombia and Fr. Eduardo Millan, CSV, his novice director in Chile.
"It's a sign of life," Fr. Hall said. "It's a sign that we're growing — and thriving."
Br. Diego is a native of Bogotá. He brings a background in public accounting to the community, having earned his degree in 2016 from Universidad la Gran Colombia. But it was a spiritual retreat he attended during college when he began questioning what God had planned for his life, that ultimately led to an interest in a religious vocation.
During college, Br. Diego joined a youth group at his parish and was a catechist for two years, before he began the process of discernment with the Viatorians, which formally started in 2019.
Br. Diego entered the Viatorian novitiate — run by the Latin American and Caribbean Council in Puente Alto, Chile — one year ago and spent his time preparing under the guidance of Fr. Millan.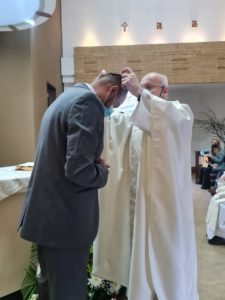 The Latin American and Caribbean Council, or CLAC, formed in 2001 to serve the growing number of novices in Colombia and Chile. Their year in the novitiate consists of an intense training process as strong preparation for religious life, that includes studies in pastoral, spiritual and academic areas.
"Diego's experience in the novitiate immersed him in the roots and life of the Viatorian Community," says Fr. Pedro Herrera, CSV, "while giving him an opportunity to develop his inner spirituality and reflect on his vocation."