The year 2022 promises to be an historic one for a pair of Viatorian parishes. Maternity BVM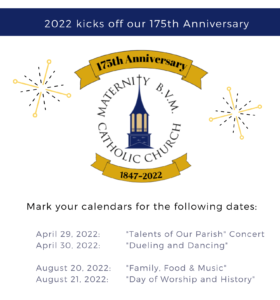 Church launched its yearlong celebration of its 175th anniversary, with a variety of events planned in April and August, while at the same time St. George Parish kicked off its yearlong celebration of its 150th anniversary. St. George parishioners are devoting the year to highlighting family and faith.
"The parish will kick off a year of celebration and events," says Fr. Daniel Belanger, pastor "to gather families together and grow in their faith."
Both anniversaries reflect the years the current parish churches were built — Maternity BVM in 1846 and St. George in 1872, when a stone church was completed, built of stone quarried from the Kankakee River bed.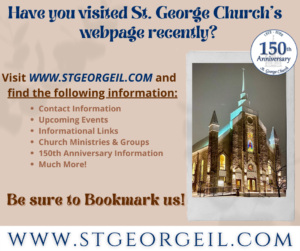 In both places, Viatorians came early to staff the parish — and they stayed.
Viatorians have continuously staffed Maternity BVM since 1865 and that legacy continues with Fr. Jason Nesbit, pastor, and Fr. Moses Mesh, associate pastor.
A similar commitment can be seen at St. George, where Fr. Belanger carries on a long tradition of Viatorians serving local families in this rural community. The first Viatorian to lead the parish was Fr. Auguste J. Tardif, CSV, beginning in the early 1900s.
"In 2022, we celebrate the 150th anniversary of the present church," Fr. Belanger adds. "We look to our ancestors in gratitude for their perseverance to ensure the parish of St. George flourished and endured. We are willing to meet the challenges ahead to provide the same faith opportunities for future generations."