"Blessed are you who believed what was spoken to you by the Lord…" (Luke 1:45)
"Wow, for 25 years I am constantly amazed at what Jesus Christ has invited me to do as a Viatorian," writes Fr. Dan Belanger, CSV, as he reflects on the 4th Sunday of Advent as well as his 25 years of religious life.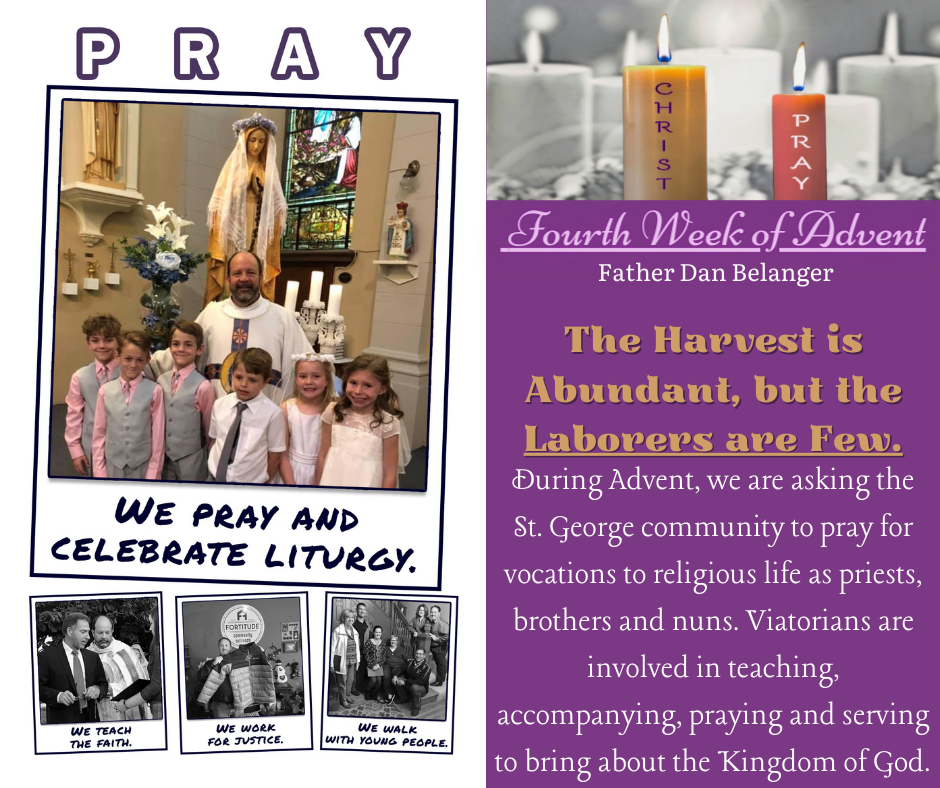 "As we celebrate the 4th Sunday of Advent, I can't help but think of Mary and her willingness to accept God's promise and say 'YES' to something when she had no idea what to expect and accepted the commitment for life. Her willingness to accept God's word and live it throughout her life is amazing.
"As I have traveled on my journeys with the Viatorians, I remember the day I took perpetual vows. It was after eight years of discernment that I finally said, 'YES' with a whole heart to walking with my brothers in proclaiming the word and teaching youth, not only as a brother, but also a priest.
"One of the greatest things I enjoy at this point of my life is inviting children to the table of the Lord for the first time. As the picture shows, I am standing in front of the Mary Statue at St. Mary's Beaverville with these adorable children. After a year of practicing and listening to Jesus Christ they hold out their hands and say, 'Amen.' Just as Mary spoke the words 'yes' these children take and eat and begin a new journey in their Catholic faith.
"As we celebrate 150 years of St. George Church, I invite you to consider making a life commitment to a journey by saying 'YES' to Christ as a brother, priest or an active participant in a community of men and women of many ministries to share the talents that God gave you."