For the first time in more than 20 years, it's snowing on Halloween in Chicago. In fact, weather experts are predicting a record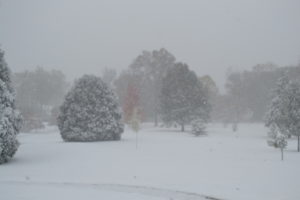 snowfall today, prompting some suburban communities to postpone trick or treating.
Mother Nature's unusual snowfall was on full display at the Viatorian Province Center, which is set on nearly seven acres of
land and serves as the headquarters of the Chicago Province. Its nearly 100 trees, including 30 new trees and 40 flowering bushes planted last spring, struggled to bear the weight of the precipitation.
Steve Burks, director of buildings and grounds for the Province Center, says last winter's heavy snowfall took a toll on the property. "We lost 46 trees — mostly along the fence line," Burks says.
Today's early snowfall caused some alarm — not about the new trees but about the established ones.
"I'm more concerned about all the trees that still have all their leaves," Burks said. "This is heavy, wet snow. We can't catch a break."
As it is, Viatorians are taking in the splendor and acknowledging the beauty of God's creation, playing out before their very eyes.
"Mother Nature's offering tricks not treats this Halloween," quipped Fr. John van Wiel, CSV.
The lush grounds reflect the rich farmland and orchards that Viatorians purchased more than 60 years ago. During the late 1950s and early 1960s, they converted it into the Province Center and Saint Viator High School, on the northern edge of the property.
As a religious community, Viatorians are committed to caring for all of God's creation and the nature sanctuary that comes alive before their eyes reminds them daily of the magnificence of God's creation.