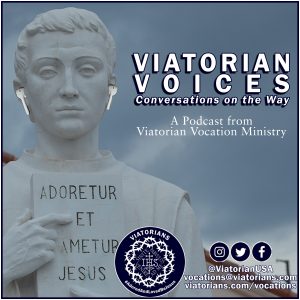 Join us to learn more about the Viatorians, our charism, mission, and ministry, and the ways our brothers, priests, associates, and communities are proclaiming Christ and His Gospel and raising communities where faith is lived, deepened, and celebrated.
Special Series
Bolder Dreams is a ministerial development series that responds to Fr. Querbes' insight that people are bolder when they dream they are doing God's will. In this series, guests from outside the Viatorian Community share insights on integral Viatorian topics. Our goal is for their fresh perspective to renew and re-embolden our ministries. These episodes appear in the podcast feed.
A Lively and Enlightened Faith: Catholic Social Teaching in the Viatorian Community is a series focused on the themes of CST. It's housed in its own special webpage, which includes all its resources. The series centers on special episodes of our podcast, which also appear in our podcast feed.
Our Latest Episodes
Follow the podcast feed on Spotify, Apple Podcasts, YouTube, and Google Podcasts.
Bolder Dreams Ep. 13: Collecting Insights for the Viatorian Community (Bolder Dreams Finale)
In our 12-episode series, we invited guests to speak to the Viatorian Community on various key areas that are integral to our ministry. By seeking input from those who are not Viatorians but who are surely kindred spirits, we hoped we could bring fresh, challenging, and helpful insights to bear on our work. In this final episode, we gather the explicit advice we heard from each guest into a collection of encouragement for us and our ministries. (This episode debuted on October 30, 2023.)
+
Bolder Dreams Ep. 12: Vocation Ministry Part 2 with Sr. Debbie Borneman, SSCM
Continuing our two-part conversation with Sr. Debbie, she has some advice for Viatorians: follow the boldness of our founder in proclaiming the Gospel and accompanying youth. We can continue to support one another in our vocations and work together to make young men aware of the potential in Viatorian religious life for them. (This episode debuted on October 23, 2023.)
+
Bolder Dreams Ep. 11: Vocation Ministry Part 1 with Sr. Debbie Borneman, SSCM
Sr. Debbie Borneman, CCSM is the Director of Mission Integration for the National Religious Vocations Conference (NRVC). In her work, she trains, collaborates with, and supports vocation ministers from women's and men's religious communities nationwide and beyond. She sees a landscape where the Holy Spirit is moving, where God's call endlessly continues, and where women and men continue to respond with discernment, exploration, and commitment. This is part one of a two-part interview with Sr. Debbie. (This episode debuted on October 16, 2023.)
+
Bolder Dreams Ep. 10: Hospitality with John Kyler
John Kyler has served the Church as a teacher, music minister, campus minister, composer, and publications editor. He drew on his various experience to reflect on hospitality in Catholic communities through a new book, Welcome All as Christ. His advice to the Viatorians: continue to welcoming people for who they are, name their gifts, and empower them to lead and serve. (This episode debuted on October 9, 2023.)
+
Bolder Dreams Ep. 9: New Media and Storytelling with Fr. Brendan McAleer, CSC
Fr. Brendan McAleer, CSC has experience in campus ministry, vocation ministry, and media production. All along the way, to keep in touch with friends and family as well as to share his vocation, he has enjoyed using Instagram. Now as a producer for Grotto Network, he is striving to use new media and storytelling to help bring people to more engaged faith. His advice to Viatorians: invite people to reflect more on their stories and discover the ways that they could more fully share it, and their faith, with others. (This story debuted on October 2, 2023.)
+
Bolder Dreams Ep. 8: Liturgical and Music Ministry with Molly Mattingly
Molly Mattingly is an experienced music ministry director and university campus minister. She has helpful insights on accompanying and empowering young people in ministry and putting a focus on honoring them and their witness. Her advice to Viatorians: listen to young people and help them continue to build on their valuable experience. (This episode debuted on September 25, 2023.)
+
Past Episodes
Bolder Dreams Ep. 7: Retreat Ministry (Apple Podcasts | YouTube)
Bolder Dreams Ep. 6: Youth Ministry with Kim McMillan (Apple Podcasts | YouTube)
Bolder Dreams Ep. 5: Creation Care Mobilization with Kayla Jacobs and Diana Marin (Apple Podcasts | YouTube)
Bolder Dreams Ep. 4: Peace and Justice Ministry with Michael Jordan Laskey (Apple Podcasts | YouTube)
Bolder Dreams Ep. 3: Educator Spirituality with Dr. Amy J. Cattapan (Apple Podcasts | YouTube)
Bolder Dreams Ep. 2: High School Campus Ministry with Dr. Chris Miller and Elliott Gualtiere (Apple Podcasts | YouTube)
Bolder Dreams Ep. 1: Youth Leadership Formation with Cari Foster (Apple Podcasts | YouTube)
Ep. 53: Live from VYC 2023 with the Young Adult Leaders (Apple Podcasts | YouTube)
Ep. 52: The Laborers and The Harvest with Fr. Larry Lentz, CSV (Apple Podcasts | YouTube)
Ep. 51: Hobbies and Interests — Fishing and Painting with Fr. John Van Wiel, CSV (Apple Podcasts | YouTube)
Ep. 50: From Parishioner to Associate with Associate Julie Lampley (Apple Podcasts | YouTube)
Ep. 49: Viatorian Solidarity with Fr. Corey Brost, CSV (Apple Podcasts | YouTube)
Ep. 48: At the Margins with Br. Peter Lamick, CSV (Apple Podcasts | YouTube)
Ep. 47: Exploring God's Invitations with Fr. Dan Hall, CSV (Apple Podcasts | YouTube)
Ep. 46: Hobbies and Interests — Writing the Faith with Pre-Associate Dan Masterton (Apple Podcasts | YouTube)
CST Ep. 7: Workers' Rights and the Dignity of Work (Apple Podcasts | YouTube)
CST Ep. 6: Solidarity (Apple Podcasts | YouTube)
CST Ep. 5: Reflecting on Rights and Responsibilities (Apple Podcasts | YouTube)
CST Ep. 4: Reflecting on the Preferential Option for People Who Are Marginalized (Apple Podcasts | YouTube)
CST Ep. 3: The Dignity and Value of Human Life (Apple Podcasts | YouTube)
CST Ep. 2: Care for God's Creation (Apple Podcasts | YouTube)
CST Ep. 1: The Call to Family, Community, and Participation (Apple Podcasts | YouTube)
Ep. 45: Building Hope with Associates Michelle and Ken Barrie (Apple Podcasts | YouTube)
Ep. 44: End-of-Life Accompaniment with Associate Mary Finks (Apple Podcasts | YouTube)
Ep. 43: Exploring God's Invitation with Fr. Greg Jones, CSV (Apple Podcasts | YouTube)
Ep. 42: Journeying through Homelessness with Beth Nabors (Apple Podcasts | YouTube)
Ep. 41: A Viatorian Campus Ministry with Jim Dippold (Apple Podcasts | YouTube)
Ep. 40: 100 Years of Bishop Mac with Pre-Associate Terry Granger (Apple Podcasts | YouTube)
Ep. 37: Agricultural Stewardship with Associate David Surprenant (Apple Podcasts | YouTube)
Ep. 36: Accompanying Young People Seeking Asylum with Br. Michael Gosch, CSV (Apple Podcasts | YouTube)
Ep. 35: Roundtable on Young Adults in Association with Associate Ky Guerrero, Associate Tommy Gugino, and Associate Anthony Gugino (Apple Podcasts | YouTube)
Ep. 34: Viatorian Dads and Husbands with Associate Romeo Perez and Associate Paul Hartz (Apple Podcasts | YouTube)
Ep. 33: Audiobook Aid for Exploring God's Invitation (Apple Podcasts | YouTube)
Ep. 32: Live from VYC with Young Adult Leaders (Apple Podcasts | YouTube)
Ep. 31: Associates in Rural Parish Life with Associate Curt Saindon (Apple Podcasts | YouTube)
Ep. 30: Exploring God's Invitation with Associate Brian Hansen (Apple Podcasts | YouTube)
Ep. 29: Divine Love in Motion with Mary O'Connell (Apple Podcasts | YouTube)
Ep. 28: Roundtable on 9 Decades of Viatorian Witness with Fr. Arnold Perham, CSV (Apple Podcasts | YouTube)
Ep. 27: A Wide-Lens Viatorian View with Fr. Mick Egan, CSV (Apple Podcasts | YouTube)
Ep. 26: Exploring God's Invitation with Fr. Moses Mesh, CSV (Apple Podcasts | YouTube)
Ep. 25: Roundtable for Religious Brothers Day with Br. Rob Robertson, CSV and Br. Peter Lamick, CSV (Apple Podcasts | YouTube)
Ep. 24: Viatorian Roots at Bishop Gorman High School with Associate Connie Gerber and Associate Kim Martinez (Apple Podcasts | YouTube)
Ep. 23: VYC Leadership with Jean Ang and Patrick Aller (Apple Podcasts | YouTube)
Ep. 22: Roundtable on Viatorians: Past, Present, and Future with Fr. Patrick Render, CSV (Apple Podcasts | YouTube)
Ep. 21: A Viatorian Cristo Rey Education with Associate Deborah Perez and Melissa Gruenhagen (Apple Podcasts | YouTube)
Ep. 20: Roundtable for World Day of Consecrated Life with Special Guests (Apple Podcasts | YouTube)
Ep. 19: Being a Viatorian Pastor with Fr. Jason Nesbit, CSV (Apple Podcasts | YouTube)
Ep. 18: The Return of VYC! with Br. John Eustice, CSV and Associate Juliann Dwyer (Apple Podcasts | YouTube)
Ep. 17: Associates in Music Ministry with Susan Bourgeois and Mary Finks (Apple Podcasts | YouTube)
Ep. 16: Viatorian Leadership with Fr. Mark Francis, CSV (Apple Podcasts | YouTube)
Ep. 15: Young Adults in Association with Associates Tommy & Anthony Gugino (Apple Podcasts | YouTube)
Ep. 14: Roundtable on Prayer & Eucharist with Associate Barbara D'Urso (Apple Podcasts | YouTube)
Ep. 13: Viatorian Family Life with Abby and Associate Rosy Hartz (Apple Podcasts | YouTube)
Ep. 12: Roundtable on Viatorian Faith in Action with Fr. Tom Long, CSV and Br. Michael Gosch, CSV (Apple Podcasts | YouTube)
Ep. 11: Exploring God's Invitation with Br. Rob Robertson, CSV (Apple Podcasts | YouTube)
Ep. 10: Roundtable on Exploring God's Invitation with Br. John Eustice, CSV, Br. Peter Lamick, CSV, and Br. Ryan McMahon (Apple Podcasts | YouTube)
Ep. 9: Viatorian Athletics with Associate Jason Kuffel and Br. Peter Lamick, CSV (Apple Podcasts | YouTube)
Ep. 8: Rural Parish Life with Fr. Dan Belanger, CSV (Apple Podcasts | YouTube)
Ep. 7: What Viatorian Vocation Ministry Has to Offer (Apple Podcasts | YouTube)
Ep. 6: Care for God's Creation with Amanda Murphy and Kat Hoenke (Apple Podcasts | YouTube)
Ep. 5: Founding a Viatorian School with Fr. Tom von Behren, CSV and Br. Carlos Flórez, CSV (Apple Podcasts | YouTube)
Ep. 4: From Youth Ministry to Adult Faith with Justin Daus and Brandon Beltram (Apple Podcasts | YouTube)
Ep. 3: Lifelong Relationships with Pre-Associate Dan Masterton (Apple Podcasts | YouTube)
Ep. 2: Exploring God's Invitation with Fr. Corey Brost, CSV (Apple Podcasts | YouTube)
Ep. 1: Young Adult Ministry with Associate Ky Guerrero and Associate Jason Wilhite (Apple Podcasts | YouTube)