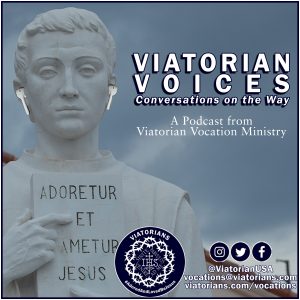 Join us to learn more about the Viatorians, our charism, mission, and ministry, and the ways our brothers, priests, associates, and communities are proclaiming Christ and His Gospel and raising communities where faith is lived, deepened, and celebrated. For most episodes, our host Jim Mitchell (SVHS '77, Mitchell Marketing Management) chats with new guests each episode about another exciting and integral area of our ministry and community life, and special roundtable episodes offer deeper dives into special topics and stories. In others, a Viatorian or staff member conducts a longer roundtable discussion to dig deeper into a Viatorian topic.
For a preview of our new series, A Lively and Enlightened Faith: Catholic Social Teaching in the Viatorian Community, visit our special webpage for all the resources. Episodes will post here as they debut in our podcast feed.
Follow the podcast feed on Apple Podcasts, Google Podcasts, and Spotify.
CST Ep. 6: Solidarity
Segment 1: Fr. Corey Brost, CSV describes solidarity in Viatorian ministry and community life.
Segment 2: Br. John Eustice, CSV reflects on the important of demonstrations and protests to show solidarity.
Segment 3: Reflections on embracing solidarity as one's mindset for service and service-learning.
+
CST Ep. 5: Reflecting on Rights and Responsibilities
Segment 1: Beth Nabors, Executive Director of Journeys the Road Home shares about her organization's accompaniment of people experiencing homelessness and its partnership with the Viatorians.
Segment 2: Jim Dippold, Director of Campus Ministry at Viatorian-endorsed Cristo Rey St. Martin, talks about the school campus and its unique ability to host crucial community events.
Segment 3: Stories from the Viatorian Community of living out our community responsibilities.
+
CST Ep. 4: Reflecting on the Preferential Option for People Who Are Marginalized
Segment 1: Associates Ken and Michelle Barrie reflect on getting to know residents of an impoverished community and helping them build up their homes.
Segment 2: Br. Peter Lamick, CSV reflects on the history and spirituality of the Viatorian Community with respect to walking with people on the margins.
Segment 3: Practical ideas for living out the Preferential Option in our lives of faith.
+
CST Ep. 3 Reflecting on the Dignity and Value of Human Life
Segment 1: Fr. Mark Francis, CSV discussing Cardinal Bernardin and the consistent ethic of life
Segment 2: Fr. Tom von Behren, CSV, Br. Carlos Flórez, CSV, and Associate Deborah Perez reflecting on educational access and equity
Segment 3: Associate Mary Finks discussing end-of-life care and accompaniment
+
CST Ep. 2 Reflecting on Care for God's Creation
Segment 1: Associate Dave Surprenant discusses agricultural sustainability.
Segment 2: Mary O'Connell shares thoughts on living sustainably.
Segment 3: Stories from Viatorians.com celebrate the Viatorian Community's care for God's Creation.
+
CST Ep. 1: Reflecting on the Call to Family, Community, and Participation
Segment 1: Associate Rosy Hartz, daughter Abby Hartz, Associate Paul Hartz, and Associate Romeo Hartz reflect on family life.
Segment 2: Br. Michael Gosch, CSV and Fr. Tom Long, CSV reflect on ministries of community organizing and activism.
Segment 3: Cullings from Viatorians.com on the Viatorian Community's commitment to active participation in our local communities.
+
Past Episodes
Ep. 45: Building Hope with Associates Michelle and Ken Barrie (Apple Podcasts | YouTube)
Ep. 44: End-of-Life Accompaniment with Associate Mary Finks (Apple Podcasts | YouTube)
Ep. 43: Exploring God's Invitation with Fr. Greg Jones, CSV (Apple Podcasts | YouTube)
Ep. 42: Journeying through Homelessness with Beth Nabors (Apple Podcasts | YouTube)
Ep. 41: A Viatorian Campus Ministry with Jim Dippold (Apple Podcasts | YouTube)
Ep. 40: 100 Years of Bishop Mac with Pre-Associate Terry Granger (Apple Podcasts | YouTube)
Ep. 37: Agricultural Stewardship with Associate David Surprenant (Apple Podcasts | YouTube)
Ep. 36: Accompanying Young People Seeking Asylum with Br. Michael Gosch, CSV (Apple Podcasts | YouTube)
https://www.youtube.com/watch?v=C-jku5_KYwIEp. 35: Roundtable on Young Adults in Association with Associate Ky Guerrero, Associate Tommy Gugino, and Associate Anthony Gugino (Apple Podcasts | YouTube)
Ep. 34: Viatorian Dads and Husbands with Associate Romeo Perez and Associate Paul Hartz (Apple Podcasts | YouTube)
Ep. 33: Audiobook Aid for Exploring God's Invitation (Apple Podcasts | YouTube)
Ep. 32: Live from VYC with Young Adult Leaders (Apple Podcasts | YouTube)
Ep. 31: Associates in Rural Parish Life with Associate Curt Saindon (Apple Podcasts | YouTube)
Ep. 30: Exploring God's Invitation with Associate Brian Hansen (Apple Podcasts | YouTube)
Ep. 29: Divine Love in Motion with Mary O'Connell (Apple Podcasts | YouTube)
Ep. 28: Roundtable on 9 Decades of Viatorian Witness with Fr. Arnold Perham, CSV (Apple Podcasts | YouTube)
Ep. 27: A Wide-Lens Viatorian View with Fr. Mick Egan, CSV (Apple Podcasts | YouTube)
Ep. 26: Exploring God's Invitation with Fr. Moses Mesh, CSV (Apple Podcasts | YouTube)
Ep. 25: Roundtable for Religious Brothers Day with Br. Rob Robertson, CSV and Br. Peter Lamick, CSV (Apple Podcasts | YouTube)
Ep. 24: Viatorian Roots at Bishop Gorman High School with Associate Connie Gerber and Associate Kim Martinez (Apple Podcasts | YouTube)
Ep. 23: VYC Leadership with Jean Ang and Patrick Aller (Apple Podcasts | YouTube)
Ep. 22: Roundtable on Viatorians: Past, Present, and Future with Fr. Patrick Render, CSV (Apple Podcasts | YouTube)
Ep. 21: A Viatorian Cristo Rey Education with Associate Deborah Perez and Melissa Gruenhagen (Apple Podcasts | YouTube)
Ep. 20: Roundtable for World Day of Consecrated Life with Special Guests (Apple Podcasts | YouTube)
Ep. 19: Being a Viatorian Pastor with Fr. Jason Nesbit, CSV (Apple Podcasts | YouTube)
Ep. 18: The Return of VYC! with Br. John Eustice, CSV and Associate Juliann Dwyer (Apple Podcasts | YouTube)
Ep. 17: Associates in Music Ministry with Susan Bourgeois and Mary Finks (Apple Podcasts | YouTube)
Ep. 16: Viatorian Leadership with Fr. Mark Francis, CSV (Apple Podcasts | YouTube)
Ep. 15: Young Adults in Association with Associates Tommy & Anthony Gugino (Apple Podcasts | YouTube)
Ep. 14: Roundtable on Prayer & Eucharist with Associate Barbara D'Urso (Apple Podcasts | YouTube)
Ep. 13: Viatorian Family Life with Abby and Associate Rosy Hartz (Apple Podcasts | YouTube)
Ep. 12: Roundtable on Viatorian Faith in Action with Fr. Tom Long, CSV and Br. Michael Gosch, CSV (Apple Podcasts | YouTube)
Ep. 11: Exploring God's Invitation with Br. Rob Robertson, CSV (Apple Podcasts | YouTube)
Ep. 10: Roundtable on Exploring God's Invitation with Br. John Eustice, CSV, Br. Peter Lamick, CSV, and Br. Ryan McMahon (Apple Podcasts | YouTube)
Ep. 9: Viatorian Athletics with Associate Jason Kuffel and Br. Peter Lamick, CSV (Apple Podcasts | YouTube)
Ep. 8: Rural Parish Life with Fr. Dan Belanger, CSV (Apple Podcasts | YouTube)
Ep. 7: What Viatorian Vocation Ministry Has to Offer (Apple Podcasts | YouTube)
Ep. 6: Care for God's Creation with Amanda Murphy and Kat Hoenke (Apple Podcasts | YouTube)
Ep. 5: Founding a Viatorian School with Fr. Tom von Behren, CSV and Br. Carlos Flórez, CSV (Apple Podcasts | YouTube)
Ep. 4: From Youth Ministry to Adult Faith with Justin Daus and Brandon Beltram (Apple Podcasts | YouTube)
Ep. 3: Lifelong Relationships with Pre-Associate Dan Masterton (Apple Podcasts | YouTube)
Ep. 2: Exploring God's Invitation with Fr. Corey Brost, CSV (Apple Podcasts | YouTube)
Ep. 1: Young Adult Ministry with Associate Ky Guerrero and Associate Jason Wilhite (Apple Podcasts | YouTube)