Each year, it's a labor of love. Viatorians along with staff members travel to Queen of Heaven Cemetery in West suburban Hillside, to clean the graves where Viatorians are buried.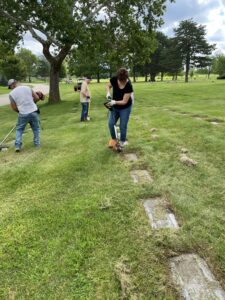 The Viatorian section of the cemetery contains 137 gravesites, dating back to 1949, when Fr. John O'Mahoney, CSV, a former president of St. Viator College and provincial, was buried there. Before that, Viatorians were buried at Maternity BVM Cemetery in Bourbonnais.
"This annual pilgrimage gives members of the community the opportunity to reflect on the many blessings of those who came before them," says Br. Michael Gosch, CSV, "and give thanks for the rich legacy they left behind."
This year, the group included Fr. Daniel Hall, CSV, Fr. Thomas Long, CSV, Associate Joan Sweeney and staff members Julia Carens and Noé Quiroga. Working as a team, they raked and weeded the gravesites, using powered weed wackers, and cleaned the area around the statue of St. Viator, in the center of the section.
Cleaning the sites took place one week before Viatorians across the Chicago Province will return to the gravesites on Querbes Day, when the founder of the Clerics of St. Viator, the Venerable Fr. Louis Querbes, passed away.
During this visitation and prayer service, associates, brothers and priests will hear the names of each Viatorian buried there, as they remember their devotion, and honor those who went before them.