The Midwest Archives Conference (MAC) annual meeting 2013 was held in Indianapolis from Thursday, April 18 – Saturday, April 20 at the downtown Hyatt Regency Hotel – kitty corner from the state capitol. The theme of the conference was "In the Driver's Seat: MAC at Indy" – an Indy 500 racecourse tie-in. But Indianapolisis home to the Eli Lilly Pharmaceutical Companyand that became a personal theme of the conference.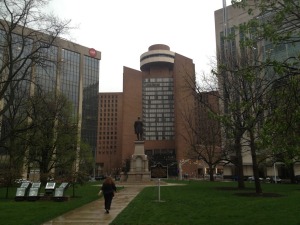 Hyatt Regency (center building)
On the way into Indy, first stop was at the Eli Lilly Estate and Gardens called
Oldfields
– a National Historic Landmark and home to the Lilly family, the founders of the international company.
Time was short there, but well worth the stop to walk-through the mansion and around the numerous blooming gardens on a beautiful spring afternoon.
A return trip is in order to visit the
Indiana Art Museum
that is also located on the property.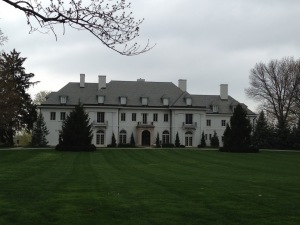 Oldfields – the Lilly Family Estate
MAC offered numerous archives and city walking tours.
Opting for the Eli Lilly and Company archives and museum was first choice for two reasons.
First, a personal interest after working 18 years in the pharma industry and second, a chance to see one of the archivists there, Katelyn Meehan Mulder, a friend and former intern at the Viatorian Community Archives.
The extensive Lilly archives were just renovated and they are currently inventorying and re-housing the collections – a monumental task!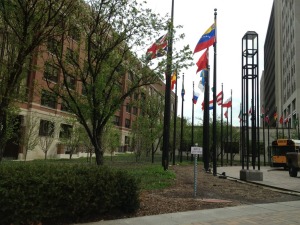 Eli Lilly and Company
The beautiful Lilly campus covers numerous city blocks with its administrative headquarters and R&D laboratories. It was founded in Indianapolis in 1876 and is now the 10thlargest pharmaceutical company in the world. Getting to go behind the scenes and see the working of the archives was an unusual treat – due to the proprietary and confidential nature of the business. It was a great tour – thanks to Michael and Katelyn!
The opening reception of the conference was held at the Indiana State Library – a wonderful venue.
Appetizers and local brew were enjoyed with colleagues.
Dessert was a huge cake the shape of the state to celebrate the 40
th
anniversary of The Society of Indiana Archivists.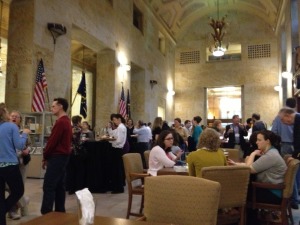 Opening Reception
Concurrent sessions were offered over the 3 days – giving everyone a chance to pick something that fit their needs and interests. Records and Information Management, Proactive Collecting, Leadership in Archives, Managing the Shop, Using Podcasts, Electronic Records and the ArchivesSpace Project Update were personal choices. Some great creative ideas are always sparked and awakened – MAC is a place to refresh and regain energy to barrel ahead and make the archives relevant to our users in this digital age.