Promoting a call to religious life, can be exhausting and exhilarating all at the same time. Just ask Br. John Eustice, CSV, Director of Vocation Ministry and Dan Masterton, Assistant Vocation Minister.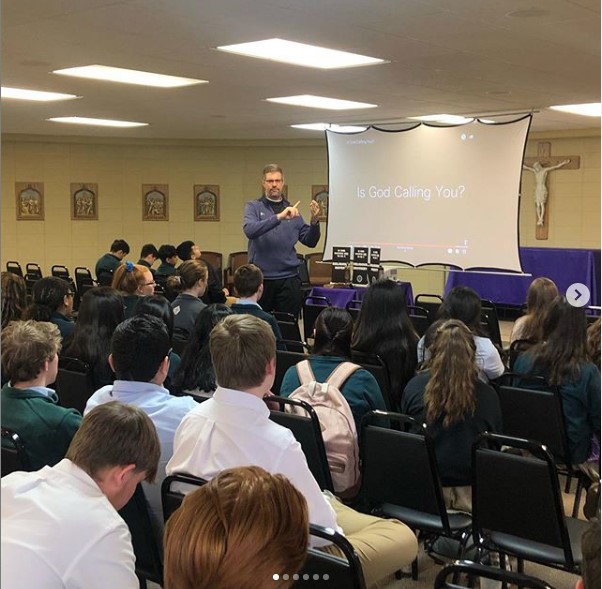 Together, they are taking Viatorian vocations on the road, meeting with young people where they are at: in schools, confirmation classes, at conferences, youth rallies and young adult reflection evenings.
At each stop, they ask this basic question: "Is God calling you?"
Their most recent visit took place at Bishop McNamara High School in Kankakee, where Viatorians have served for more than 50 years. Currently, Fr. John Peeters, CSV, serves as executive pastor and Associates Ken and Michelle Barrie lead its Catholic Ministry Office.
"Our approach is rooted in our mission to accompany young people," Br. John explains, "as they learn to hear God's voice in their lives."
They explain what it means to be a priest or brother, as well as a religious sister, and Br. John often shares his own discernment and calling. Ultimately, the chance to accompany young people on their faith journey, continues to drive him.
"I help them to find evidence of Christ active in the ordinary, every day experiences," he says, "and assist them in building a deeper relationship with him."
Follow Viatorian vocations on Instagram and Twitter, or visit their vocations page, which gives all the tools to learn more about becoming a Viatorian.