Fr. John Peeters added a new ministry, serving on the executive board of the Bishop McNamara Catholic school system in the Bourbonnais and Kankakee region, which serves students from preschool through high school.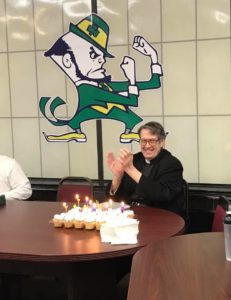 It's just the latest role for this versatile Viatorian, who this year also celebrates 10 years as pastor of St. Patrick's Church in Kankakee.
Fr. Peeters has been a Viatorian for 57 years, but it would seem he was destined to join the community, having been raised at St. Viator Church and School in Chicago, where his parents were active members.
At age 18, after graduating from high school, Fr. Peeters entered the Viatorian novitiate and one year later, in 1960, took his first vows.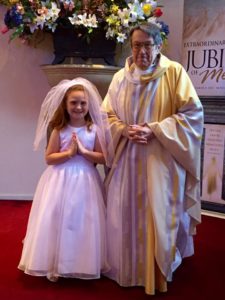 His years as a Viatorian have taken him literally around the world. He served as secretary to the Superior General in Rome from 1972-79, and later as novice master at Colegio San Viator in Bogotá, Colombia. But the bulk of Fr. Peeter's ministry has been in Viatorian parishes, from Kankakee and Springfield, to St. Viator Catholic Community in Las Vegas.
His last assignment before coming to St. Pat's was as associate pastor of St. Francis Xavier Parish in Corozal Town, Belize.
As a result of Fr. Peeter's international experience and fluency in different languages — including Spanish — he serves as a translator for Fr. Robert M. Egan, CSV, Superior General, at international meetings and as a trusted confrere.
This story was updated Feb. 22, 2021.