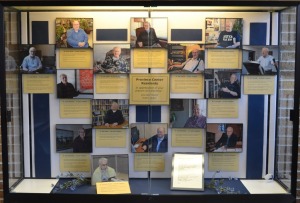 Fourteen Viatorians reside in the Province Center retirement wing
A new exhibit is on display in the Province Centerfeaturing the residents that live in the retirement wing of this location. This exhibit was requested by Br. Michael Gosch, CSV, Assistant Provincial, in appreciation of their prayers and presence, since they still touch many lives!
Last month, Communications Director, Eileen Dadayinterviewed each resident while Archivist, Joan Sweeney snapped their photographs for the display. Each confrere discussed living at the Province Center, what they do in their free time and activities they are still involved in. For being retired, these men are still very active – in and outside the community.
A special mention goes out to Fr. George Auger, CSV, a resident who recently moved to the Little Sisters of the Poor in Palatine, to become their chaplain.
Also included in the exhibit is the prayer from the blessing of the residence wing back on November 30, 1980. The ending of the prayer is very appropriate: "May we all belong somewhere, somehow, to someone. O Christ, host this place and make it a home." The residence wing is a home to them and we are blessed that they belong to us!
Stop by to read some facts you may not know about these priests and brothers. The exhibit will remain up through May.