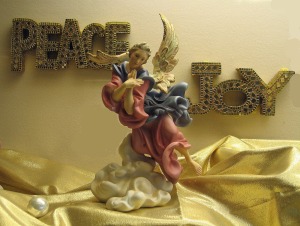 A special holiday exhibit is on display near the chapel in the Province Center. The above photo is a close-up of one of the three beautiful angels in the collection.
The Vatican Nativity Porcelain Sculpture Collection is the first-ever collection of its kind officially authorized by the Vatican Museums and produced by The Franklin Mint. This certified, limited edition collection is crafted in fine bisque porcelain and hand-painted in jewel-like colors with accents of 24 karat gold. Included in the collection are Joseph, Mary, the baby Jesus and manger, angels, the three wise men, shepherds, townspeople, a donkey, cow and horse.
Fr. Tom Langenfeld donated this collection to the Province Center. It was a gift to him from the General Direction in Rome when he left his position as Superior General (1972-1984).
The Vatican Nativity will be on display from mid-December through the Feast of the Epiphany, the visitation and adoration of the Magi.
The display was the inspiration of Fr. George Auger, CSV, Director of the Province Center Residence.