If Labor Day weekends signals the end of summer, gardeners who work in the Viatorian Giving Garden know better. The prospect of fall presents a new season of growing.
"Our gardeners are interested in planting fall crops," says Associate John Dussman who coordinates the garden ministry. "Kale is the first one that comes to mind, but we've also got gardeners who are planning to plant broccoli, cauliflower and brussel sprouts."
As it is, the one dozen gardeners have combined to grow more than 800 pounds of vegetables — so far — since planting in May. Their harvest included cucumbers, eggplant, peppers, yellow squash, zucchini — and loads of tomatoes.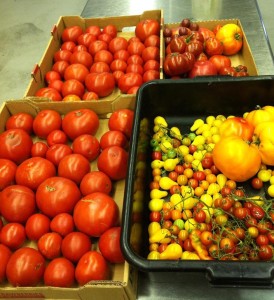 All of the vegetables were raised for families in need, especially those served by Catholic Charities and the Wheeling Township Food Pantry, which serves households from throughout Chicago's Northwest suburbs.
Kathy Penner, Wheeling Township Supervisor, wrote to thank the Viatorian gardeners for their abundant donations in August, alone.
"The fresh vegetables were a healthy addition to the pantry," she wrote. "Every donation makes a difference in someone's life and brings relief during a time of need."
This year, the garden drew members of the Children of Abraham Coalition to pitch in. Working with Fr. Corey Brost, CSV, its members include those from the Christian, Jewish and Muslim faith traditions, who organize events around which they can learn about one other's religions while working together toward peace.
They were drawn to the Viatorians' faith-based mission to feed the hungry. Because of this ministry, the garden was named a sacred space in March by the Saint Kateri Conservation Center.