From the time he was a child growing up in Medellín, Colombia, Fr. Edwin Ruiz, CSV, has known he wanted to be a teacher and a priest, making him a perfect fit for the Viatorians.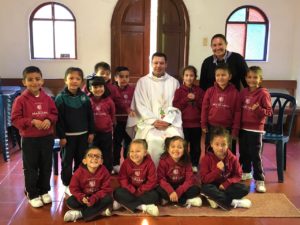 It was Fr. Edgar Suarez, CSV, who introduced him to the Viatorians, in 2006. Fr. Ruiz would enter the pre-novitiate one year later and in 2008 he would complete his novitiate year in Santiago, Chile, with other novices from the Latin American and Caribbean Council, or CLAC.
Fr. Ruiz made his perpetual vows in 2012 and in 2016 he was ordained to the priesthood, in San Juan María Vianney Parish, where he had served as a catechist and pastoral coordinator.
Fr. Ruiz brings his background as a scholar and theologian to the Viatorian Community. He earned his first degree in religious education at Bolivarian Pontifical University in Medellín, before earning certifications in psycho-spiritual accompaniment and community discernment.
He also earned a degree in canon marriage law from Pontificia Javeriana University, and is currently in his second semester of earning a master's degree in pedagogy at Sabana University, in Chía, Colombia.
During his years with the Viatorians, he has taught religion at Colegio San Viator in Bogotá, as well as serve as chaplain to a pair of religious communities. He also has provided sacramental ministry, including at San Viator and San Juan María Vianney parishes.
Currently, Fr. Ruiz is vicar of Santa Inés de Guaymaral Parish, a Viatorian run parish in Bogotá.
"I thank God for allowing me to be part of the Viatorian Community," Fr. Ruiz says. "I feel happy and fulfilled as a human being by living with my brothers and experiencing God's love in service.
"God in his infinite goodness," he adds, "has called me to be part of his closest disciples."