Fr. Dan Belanger, CSV, is two for two.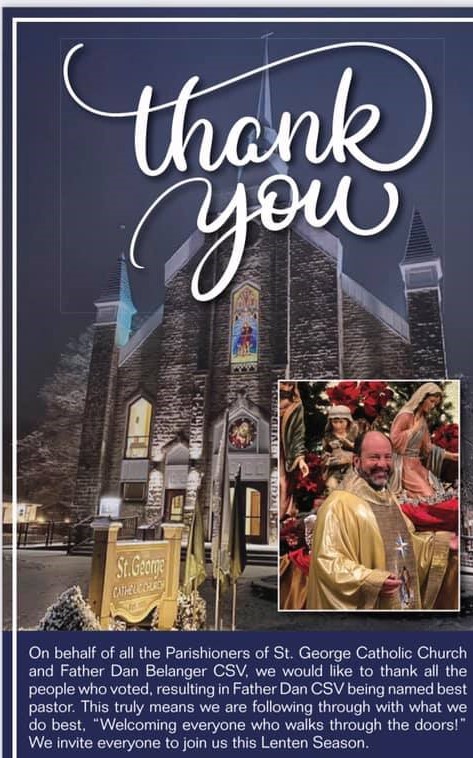 Officials with the Kankakee Daily Journal launched its second Readers' Choice Awards last month and welcomed readers to vote on everything from favorite restaurants, entertainment, and shopping choices to schools, home services and auto dealers. They also included a category for 'best place to worship' and 'best pastor.'
Winners were announced over the weekend in a special section, and for the second straight year, Fr. Dan was voted best pastor.
St. George parishioners were so thrilled, they took out an ad to thank local readers.
"This truly means we are following through with what we do best, 'Welcoming everyone who walks through the doors,' " the ad reads. "We invite everyone to join us this Lenten season."
The award validates the work of Fr. Dan, who was assigned as pastor in 2009. Over the years, he has worked to involve parishioners in the liturgy, in beautifying its grounds, in youth ministry, in taking pilgrimages and in special devotions.
He also led parishioners in a capital campaign aimed at constructing a building for its growing youth ministry. Four years ago they began building the Fr. Querbes Youth Ministry Center and since its dedication they have held religious education classes, meetings and most recently hosted a Kairos retreat.
For his part, Fr. Dan described the award as "humbling."
"It is my parishioners who teach me what it means to walk with Christ," he said. "Our main ministry is to bring people closer to Christ."