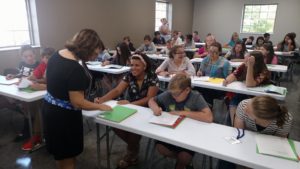 One week after Fr. Mick Egan, CSV, provincial, dedicated the new Father Querbes Youth Ministry Center at
St. George Parish in Bourbonnais, IL, religious education classes met for class on Sunday.
The new start culminated a yearlong capital campaign that drew parish families and the Viatorian Community to contribute to the state-of-the-art facility.
"This 3,000 square foot building will provide desperately needed religious education classrooms," says Fr. Dan Belanger, CSV, pastor, "along with the designated youth ministry and office space."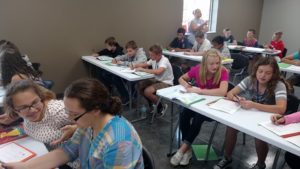 He adds that over the last several years, St. George has experienced as much as 41 percent growth in religious education students. With limited space in the parish hall, the church community had to close enrollment last year in three grade levels.
"We know today that young people learn in far different ways than the way they did just 10 years ago," Fr. Belanger says. "Studies show that meeting young people where they are, and equipping them with opportunities and experiences leads to a more fulfilling faith journey, and will impact them both now and in the future."
The building has four classrooms plus an office and youth ministry room, equipped with a large, flat screen TV, additional audio visual equipment, as well as couches and chairs for youth group and Bible study meetings, and a meeting table that seats 16.
Local artists also contributed major art work to enhance the setting. For starters, Kankakee portrait artist, Libby Wasser, was commissioned to create a painting of Fr. Querbes, which greets guests when they enter the center.
Likewise, another Kankakee artist, Bill Barnes, was commissioned to create a series of three abstract acrylic panels for teens to interpret in the youth ministry room, called Genesis 1:11.