Viatorians continually strive to be better stewards of God's Creation and hope to make those efforts more concrete over time.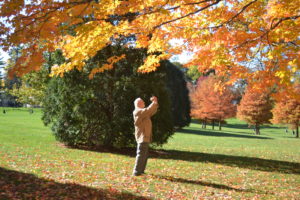 They draw inspiration from Pope Francis, who underscores his support of worldwide Earth Day: "I exhort everyone to see the world through the eyes of God the Creator: the earth is an environment to be safeguarded, a garden to be cultivated."
Viatorians literally cultivate gardens at many of their institutions while promoting sustainable living, feeding the hungry and caring for our common home.
Their commitment can be traced back more than 60 years ago, when the congregation purchased acres of farmland and orchards in Arlington Heights. While they turned the majority of land into Saint Viator High School, they also moved their Province Center out to the remaining seven acres, where they have nurtured the nearly 100 trees that dot its rolling landscape.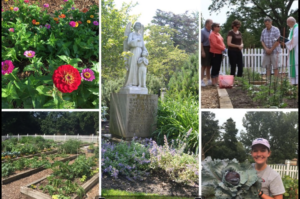 Within the last 10 years, members of the Viatorian Community have developed  a "giving garden" on the Province Center grounds. Its 14 raised beds have produced nearly 1,000 pounds of fresh vegetables each summer for local food pantries.
Just last month, the Viatorian Community Garden was registered with the Saint Kateri Conservation Center as a sanctioned habitat, by promoting its values of faith, integral ecology and life.
That same giving garden concept has spread to St. Viator Parish School in Las Vegas, where students tend a garden and learn all aspects of its growth cycle as part of their curriculum. Already this year they have planted tomatoes, strawberries, purple artichokes, herbs and lettuce. Last year, they were able to help feed school families hit hard by the pandemic.
Men at Viator House of Hospitality are also cultivating a garden. Thanks to the help of a young Eagle Scout, they now have three raised beds next to their home where they plan to grow fresh vegetables for nearby Catholic Charities' food pantry.
Gardens also play a vital role in the Bourbonnais/Kankakee region of the Viatorian Community. At St. George Parish, its Garden Club formed more than 10 years ago to beautify the church grounds and extend its sacred space outdoors.
Finally, parishioners at Maternity BVM Parish in Bourbonnais adopted a similar mission. They lovingly care for the 100-year old grotto on the church grounds, surrounding it with flowers and lush greenery, in order to offer a holy place for prayer and contemplation.