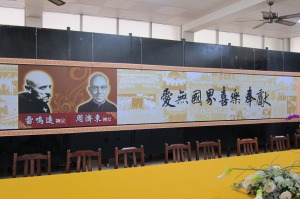 There is an exhibit at Catholic Viator High School in Taichung, Taiwan during the month of June 2012 honoring Fr. Roger C. Drolet, CSV, (1903-2001) from the Province of Chicago. Drolet was the founder of the school. Also being honored is Fr. Lebbe, the founder of the Congregation of St. John the Baptist, the Chinese congregation who is in charge of the school now.
Fr. Guy St. Germaine, CSV, who ministers in Taichung, said the display is in the Exposition Hall of the school. When St. Germaine arrived in Taiwan from Canada in 1962, it was Fr. Drolet who greeted him. St. Germaine is glad that parents, teachers and students will learn about Drolet and the things he accomplished in Taichung.
In 1956 Drolet was named superior of the new mission in what was then Formosa. He served as teacher and master of novices in Taichung. He remained in Taichung for 45 years and is buried there. The big auditorium in the school is named in his honor.
To see a more photos sent to the archives by Fr. St. Germaine, click on the link: Picasa Slideshow