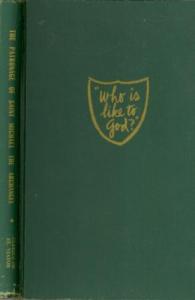 Mrs. Carson (Jackie) Cross, a parishioner at Sacred Heart Parish in Goodrich, IL, donated two books to the Viatorian Community Archives this week. Jackie included in her correspondence that she has fond memories of Fr. Paul Jasinski, CSV, pastor at Sacred Heart for 23 years from 1978-2001.
The first item is a publication from 1954 by Fr. Andrew A. Bialas, CSV titled The Patronage of Saint Michael the Archangel. This 163 page hardcover book is in very good condition and even contains an inscription inside from Fr. Bialas. Only one copy was in the archives collection, so the duplicate is most appreciated!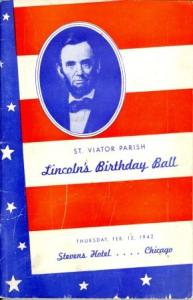 The second item is a new addition to the collection of St. Viator Parish, Chicago . It is a book from the parish's celebration, called Lincoln's Birthday Bash, held on February 12, 1942 in the Grand Ballroom of the Stevens Hotel in Chicago. This 94 page softcover book is in excellent condition. Its contents are primarily advertisements from various local sponsors and organizations, but it also contains some photographs of the parish priests, main altar and convent.
Many thanks to Jackie for preserving these works through the years and kindly donating them to the Viatorian Community!