Viatorian Associate Kim Martinez holds a special role at Bishop Gorman High School in Las Vegas: as one of two campus ministers in the school, she leads students on retreats, both Quest and Kairos, which can be lifechanging and empowering for teens.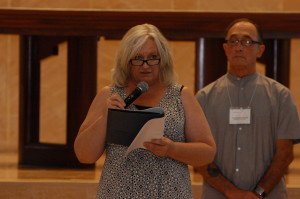 This fall, Kim will be one of three Viatorians on staff at the high school — the only Catholic high school in southern Nevada, and one of only two in the state — keeping the Viatorian charism alive in the school, which was founded 60 years ago by the Clerics of St. Viator.
A native of Springfield, IL, Kim made her initial commitment as a lay Viatorian associate in 2009 and this summer, during the Viatorian Assembly in Las Vegas, she re-committed to carrying out the Viatorian mission for another five years.
During the Assembly, Kim presented some of the ways her students demonstrate hospitality, which was the theme embraced by the more than 80 Viatorians on hand. She described Matthew's Closet, which is run completely by Campus Ministry students and staff from the high school and serves homeless individuals in the Las Vegas area.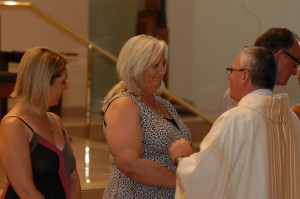 The lending closet is located within the offices of Catholic Charities in Las Vegas, and provides clothing, toiletries, shoes and bags to the more than 150 people who visit it each week. Each Bishop Gorman student is required to work at Matthew's Closet at least once during their four years, along with carrying out at least 25 hours per year of Christian service.
"The Assembly feeds me on a level I can't explain," Kim said. "It culminates my vocation as a Viatorian, in a way I can't get anywhere else."