One of the core pillars of the Viatorian mission is to minister to and with young people and to nurture their active membership in their faith communities.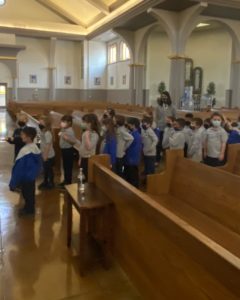 That commitment starts young. At St. Viator Parish in Las Vegas, in anticipation of celebrating the feast of the Immaculate Conception, preschoolers and kindergarten students received a personal tour of the church from Associate Rosy Hartz, who leads faith formation at the parish.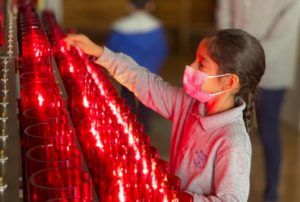 "This will be the first time they will be attending an all-school Mass, so we wanted to help them feel at home," Rosy says. "We wanted them to feel comfortable and know the space."
Each class toured the church separately and they got to walk up to the altar and sit in the chairs of the presiders, as well as learn about some of the murals in the church. They also learned about the rows of votive candles and the baptismal font. Their tour ended with students filing into the pews to say a silent prayer.
"It was great to see them explore and even say a personal intention with lighting a candle," Rosy added. "At the end, everyone said they learned something new."