After a long winter, gardeners came out of hibernation and returned to the serenity of working the land, the Viatorian Community garden, that is, located on the grounds of the Viatorian Province Center in Arlington Heights.
On the first weekend after Mother's Day — the traditional start of the gardening season — a new crop of gardeners turned out as well as a pair of veterans.
Members of the Children of Abraham Coalition came out for the first time. Working with Fr. Corey Brost, CSV, its members include those from the Christian, Jewish and Muslim faith traditions, who organize events around which they can learn about one other's religions while working together toward peace.
"Our first interfaith garden is officially live," Fr. Corey said. "Through our work, may the God of our traditions nurture the spinach, beans, lettuce and kale we planted for those who hunger!"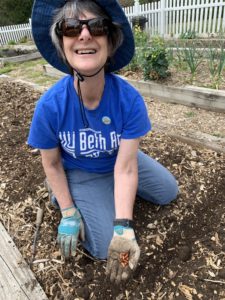 Indeed, they are joining a faith-based ministry whose mission is to grow fresh vegetables for area food pantries. In March, the garden was named a sacred space by the Saint Kateri Conservation Center.
Last year alone, the gardeners provided more than 1,000 pounds of nutritious vegetables to food pantries — adding up to more than four and a half tons since they began the garden in 2012.
"Your work is appreciated," Associate John Dussman told gardeners this month, "and goes to help people on the margins that need it the most."
Dussman and Steve Daday — who have been raising crops since the start — joined the Children of Abraham members over the weekend in planting their rows of tomatoes and peppers.
They rolled up their sleeves, prepared the soil and began planting. A new season of feeding the hungry has begun.