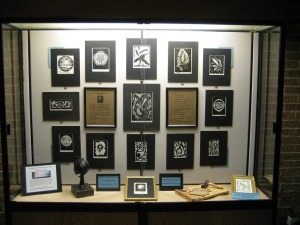 On display in the Province Center exhibit case is a collection of

Fr. Ray Novacek's

original woodblock prints.

These designs were used for his Christmas cards each year.

The collection includes every year from 1972 – 1986, missing only 1976.

It is uncertain if there were designs before 1972.

The 1972 design was also used to create a sculpture which is included in the exhibit.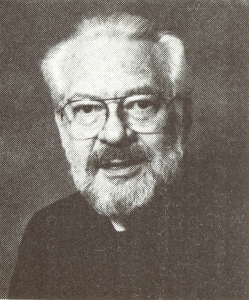 Fr. Raymund C. Novacek, CSV
(1926 – 1987)
Also on display are Novacek's original wood cutting tools, courtesy of Fr. Arnie Perham, CSV.

Ray Novacek taught Arnie Perham how to create woodblock prints. "Twelve Days of Christmas: Partridge in a Pear Tree"

is an example of Arnie's beautiful work

using Ray's tools (bottom right – in gold frame).
Spirituality was an area of deep interest for Ray.

His other joy was his art.

Through that medium, whether it was sculpture, painting or

woodblock printing

, he spoke and shared his insights and personal spiritual revelations.

Ray's last Christmas piece (in 1986) was a wood cut design entitled Love creates Hope.

He knew that to be a personal truth and in his gentle, sensitive and caring way, he helped others to discover that for themselves.
Here is a listing of the woodblock prints by year and title:
1972 – Sow seeds of Peace
1973 – Not bearing gifts, but being gift, He Comes
1974 – Love forges union, God becomes Man
1975 – Incarnation: Kaleidoscope epiphanies within us
1977 – God's coming sparks communion
1978 – Sublime Light spills glory on our waters
1979 – Breaking Light
1980 – Look! The Life of God flashes in darkness
1981 – The Spirit of God heartens the hope within us
1982 – Regardless, Gods love is with us
1983 – Today, dance in holy light!
1984 – Cords of Faith – Cradle our Hope
1985 – In each moment Christ lives
1986 – Love creates Hope
Novacek's works will be on display through the end of March. Stop by and see each design up close.