Ever wonder where your prayer intentions go once you submit them to the Viatorian Community?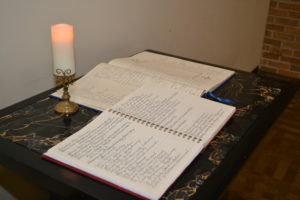 Prayer requests come in through the mail and through the web site, and they all are taken seriously — and recorded in a Book of Intentions.
Each prayer intention is inscribed in the Book of Intentions by Associate Karen Cutler. In fact, there are two books, one in the main chapel and the other in a small, private chapel located in the residence wing of the Viatorian Province Center.
In the main chapel, the Book of Intentions is located along a side wall, adjacent to the altar. In it are names of loved ones, carefully written in script and illuminated by candlelight.
These prayer intentions are lifted up daily, at morning Mass attended by members of the Viatorian Community and privately during evening prayer and visits to the intimate chapel.
Many supporters approach Viatorians for Mass intentions and they too are handled by
Associate Karen Cutler, before one of the Viatorians assigns each Mass to one of the priests.
Prayer is at the center of the Viatorian Community, which is marked by a spirituality inspired by the intentions of its founder, Father Louis Querbes.
He desired that as individuals and as a community, Viatorians become people of "living and enlightened faith."