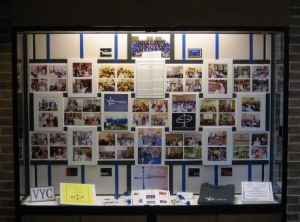 A new exhibit showcasing photographs from the first annual
Viatorian Youth Congress
(VYC) is on display in the Province Center through November 2010.
This past August, more than seventy teens, college students, and adult youth ministers gathered for the VYC from the following Viatorian institutions:
St. Viator Catholic Community
(Las Vegas, NV)
St. Thomas More Catholic Community
(Henderson, NV)
Bishop Gorman High School
(Las Vegas, NV)
St. Viator parish
(Chicago, IL)
St. Patrick parish
(Kankakee, IL)
St. Martin de Porres High School
(Waukegan, IL)
Saint Viator High School
(Arlington Heights, IL)
The photographs capture the fun of learning, playing, worshiping and living together in the spirit of the Viatorian mission!
To learn more about the Viatorian Youth Congress, read the featured article on the Viatorian news webpage. And… if you have an account, check out Facebook for more photos and video provided by participants and leaders of the VYC – just search for Viatorian.