In honor of the 150th anniversary of the death of Fr. Louis Querbes, international celebrations begin on September 1, 2009 and continue for an entire year – the Querbesian Year. The kick-off celebration takes place in Vourles, France where Fr. Querbes ministered, founded the Clerics of St. Viator and is buried. Vourles is about 300 miles southeast of Paris and about 10 miles southwest of Lyons, the second largest city in France.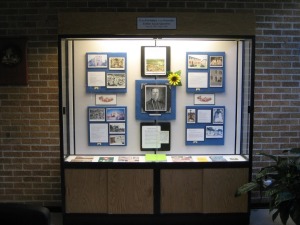 The first exhibit of the Querbesian year is called "In the Footsteps of Our Founder – Louis Querbes, 1793-1859." Here you see photographs of the Querbesian sites in Vourles.
The sites included are:
St. Bonnet Church

where Fr. Louis Querbes was pastor from 1822 until his death in 1859 – 37 years. Included is an aerial view of the church in the small village, the church exterior and interior.

The Berceau

, the first community house for the Clerics of St. Viator in Vourles. Berceau is French for 'cradle' – the birthplace of the Viatorian Community. Included are exterior photos of the front and rear of the building. Today the Berceau is a museum honoring the life and Legacy of Fr. Querbes. A photo of a Berceau museum display case is also included.

The Comte House

was the usual residence of Louis Querbes and the

Institute Louis-Querbes

was built on the land after his death to be used as the juvenate. Photos, old and new, include aerial, exterior front and back views.

The cemetery

where Querbes is buried. Photos include the gravestone with inscription and cemetery views.
These sites are displayed around a portrait of Louis Querbes that was painted in 1946 by our own Fr. Raymund C. Novacek, CSV. On the bottom shelf of the display case are numerous pamphlets collected from Vourles over the years published by their Office of Tourism as well as a book written by Roger Bou, CSV titled La Province-Mere Vourles 1859-1991 (The Mother Province Vourles), written in French, which gives the history of the Viatorians in Vourles, France.
Stop by to see the exhibit. It will be up through October 2009.
Joan