Br. John Eustice, CSV, talks about vocations wherever he goes, encouraging young people to deepen their faith, walk with others and listen to God's invitation. It's always an entertaining presentation, as Br. John mixes in his own vocations story with the many roles in religious life.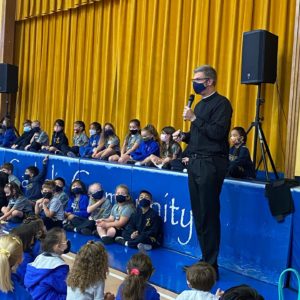 His most recent talk took Br. John back to his roots: to Las Vegas, where Viatorians have served in parishes and schools for more than 60 years.
This time, Br. John spent time with students at St. Viator Parish School, where he was warmly received. Helping him deliver his message to middle school students was Associate Rosy Hartz, who has led the parish's youth ministry program for 20 years. Br. John also made a presentation to younger students, with the help of Associate Janet Manfredi, a teacher at the school.
It has been four years since Br. John was named Director of Vocation Ministry for the Viatorians. Working closely with Dan Masterton, Assistant Vocations Minister, they promote religious life through a variety of platforms, from these direct presentations and virtual reflections, through social media, in podcast episodes and in print publications.
Through it all, they are driven to share the good news that religious life is richly rewarding — and sometimes all it takes is an invitation.