Dan Masterton is on a roll. Fresh off of speaking to educators about discernment at the National Catholic Educational Association (NCEA) in April, the Viatorians' assistant vocations minister has a new book out that explores his passion: retreats.
"From my own freshmen retreat at the start of (Saint Viator High School), I've long had a passion for retreats," he wrote in his blog, The Restless Heart. "It's a passion that propelled me to attend or lead a dozen retreats in high school."
That was just the start. He would go on to experience two long weekend retreats at the Cistercian Abbey of Gethsemani in Kentucky during college, where he experienced the power of routine, structured prayer, communal chant, and building community while retreated far from everyday society.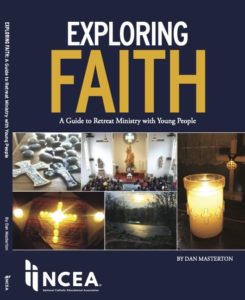 The result is Exploring Faith: A Guide to Retreat Ministry with Young People, published in late April by NCEA.
Dan describes the book as 17 years in the making. In it, he incorporates experiences gleaned from his many teachers and colleagues at his high school retreats, as well as at Notre Dame where he sang in the folk choir while earning a theology degree. Dan ultimately would work in campus ministry at four Catholic high schools, while earning his master's in theology at Catholic Theological Union in Chicago, before joining the staff of the Viatorians two years ago.
Among the many mentors he credits, Dan specifically acknowledges Br. John Eustice in the credits. He not only picked him as a Kairos leader in 2007 — the first of his 11 Kairos retreats, so far — and ultimately hired him in 2019, but he also helped with outlining and editing the book.
"Working in several faith communities, alongside countless colleagues, I have been able to dig deep into retreat ministry," he writes, "to dialogue and learn, and see the impact and benefit of thoughtfully envisioned and carefully implemented retreat programming."