Last week, Viatorians made a lead donation to house 60 homeless people in local hotels for three weeks, when temporary shelter sites had to close during the pandemic. Now, members of the Viatorian Community are stepping up again: they're taking food to the hungry.
During this three-week period of isolation in local hotels, Viatorians are partnering with neighboring St. James Catholic Church in Arlington Heights and its PADS emergency shelter program. They delivered breakfast, lunch and dinner to individuals and families staying in local inns. St. James and its PADS program are drawing from funds budgeted for their shelter program, to pay for meals for 100 people, on Mondays and Wednesdays, while Viatorians — four professed and a Saint Viator High School student and staff member — are delivering them, room by room.
At each stage, strict guidelines were followed of washing everything down, securely wrapping food items and wearing Latex gloves while preparing and making deliveries.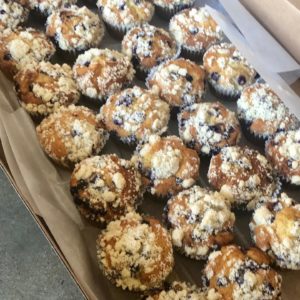 "We're more than happy to do it," says Br. Michael Gosch, CSV, Assistant Provincial, "to partner with these faith communities in delivering food during the time of the pandemic."
Br. Michael joined with Fr. Corey Brost, CSV, Br. John Eustice, CSV, and Br. Peter Lamick, CSV, as well as John O'Neill, a Saint Viator High School junior and Jason Wilhite, a 2014 Saint Viator High School graduate and campus minister, in delivering the meals.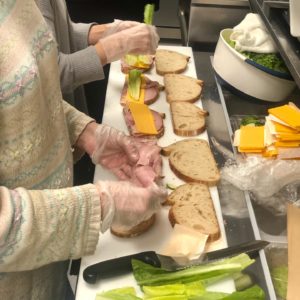 Officials with St. James are purchasing the servings from local eateries, both to support local restaurants and especially ones owned by their parishioners.
"Homelessness is a challenge anytime of the year but especially difficult during this unprecedented health crisis," said Michael Brown, co-owner of CoCo & Blu and a St. James parishioner. "While many churches and shelters are closed, volunteers have had to come up with creative solutions to the challenge of providing shelter and food for our suburban homeless. The St. James PADS' program reached out to us and we are grateful for the opportunity to help."
Consequently, on Monday, the Viatorian crew picked up breakfast and lunch at CoCo & Blu and a complete dinner from Bistro Chen, a Chinese and sushi restaurant in Arlington Heights. And as a surprise, Bistor Chen threw in six free dinners for the volunteer delivery crew members.
Fr. Daniel Hall, CSV, Provincial, summed it up the Viatorians' response succinctly: "This is in line with our calling as Catholic religious community."