It was a move that brought the Viatorians back to their roots, back to the cradle of their community.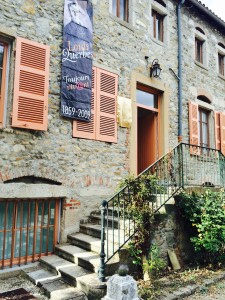 On the same day Viatorians around the world observed the anniversary of the death of their founder, Fr. Louis Querbes, their General Council and international provincials dedicated the new headquarters of their General Direction in Vourles, France.
"This is a significant moment for our congregation and community," said Fr. Thomas von Behren, CSV, provincial of the Chicago Province, "in that it returns the General Direction to its original site, the office and home of Fr. Querbes."
Vourles is located about 300 miles southeast of Paris and about 10 miles southwest of Lyons, the second largest city in France. The move establishes the office of the Superior General and his council in the city where Fr. Querbes ministered, founded the Clerics of St. Viator and is buried.
The formal dedication ceremony started with a visit to Fr. Querbes' grave, where he was buried in 1859, before the group headed back into the city for the formal dedication and blessing of the new offices.
Fr. Alain Ambeault, CSV, Superior General, addressed the crowd of dignitaries, which included Cardinal Philippe Barbarin, Archbishop of Lyons, as well as, members of the General Council, the international provincials, the superior
of the delegation of France, and Viatorians from throughout the region.
"As Viatorians, we share a special bond in community, in spirituality and mission," Fr. von Behren added. "In this way we honor our founder and extend his charism to those we encounter every day."