Fittingly, on Mother's Day, Fr. Jason Nesbit, CSV, Pastor of Maternity of the Blessed Virgin Mary Parish in Bourbonnais, concluded his liturgy with a May crowning of its patroness.
The simple ceremony took place outdoors, in front of a statue of Mary, located in front of the church. Though parish members hold a May crowning ceremony every year, this time they turned to her intercession, virtually. Rose Marie Farthing, named woman of the year by the parish's Catholic Council of Women.
"Mary is more honorable than the cherubim," Fr. Jason said, referring to a phrase in the Magnifact, "and yet she is so much like us. Let us pray that through her intercession, we may achieve holiness in life and a deepened faith,  hope and love, as we seek to do the will of God in all things."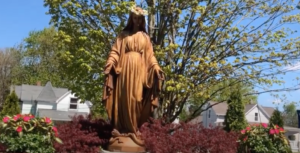 The historic, 7 1/2-foot, 1,400-pound image of Mary — made of iron and dating back more than 100 years — moved to the parish's newly designed plaza in 2016, that was built to enhance its front entrance.
The statue originally was commissioned by a family back in 1914, to be perched on top of the convent for the Congregation of Notre Dame sisters who arrived in Bourbonnais as early as 1862 — three years before the Viatorians — to teach local students.
"I think moving her closer to the church makes her more prominent," says Fr. Jason said at the time. "It just seems more powerful to see her as you enter church and it's a fitting place for our patroness."
This year's May crowning ended with praying one Hail Mary and singing the hymn, Gentle Woman, and its refrain: "Teach us wisdom, teach us love."