Fr. Dan Hall, CSV, is a military veteran, who served two tours of duty in Vietnam in the Army's special
services and spent seven years in the Marines as a chaplain.
He brings up his military experience often at Saint Viator High School, where he is the assistant football and wrestling coach, and also serves as vice president of identity and mission. Fr. Hall also stays in touch with his military roots every year by competing in the Marine Corps Marathon, among others.
However, during a special assembly at Saint Viator, to open Veterans' Day week, Fr. Hall and the rest of the school community came face to face with a real live hero: SFC Sammy Davis, a Congressional Medal of Honor recipient.
Davis' appearance came during the 50th anniversary month of his selfless acts of courage in Vietnam, on Nov. 18. 1967.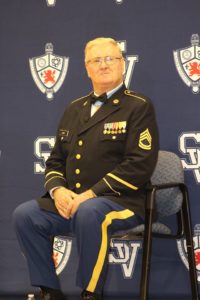 "I prayed that day, I prayed a lot," Davis told the crowd. "I didn't think I would survive and so I prayed to God, 'Sir, help me to do my job.' "
Davis was just one year out of high school when he was deployed with in an artillery regiment of just 42 men, to one of the southern provinces of Vietnam. On that fateful day, mortar attacks from 1,500 enemy soldiers started bombarding their units, Davis led the charge in firing back — more than 1,000 rounds — all despite being severely wounded himself.
"I was shot 30 times, my back was broken and my ribs were crushed," Davis said. "But I want you to know, that whatever you're facing, you don't lose until you quit trying."
Davis repeated that phrase often during the presentation, that you don't lose until you quit trying, reinforcing his main message of moral courage.
"This is great for our kids," Fr. Hall said, "to be this close to a Medal of Honor recipient and with so many veterans here. It's just a great experience this close to Veterans' Day."