Br. John Eustice, CSV, regularly accompanies teens spiritually in his role with Saint Viator High School's Campus Ministry department, where he is a co-director.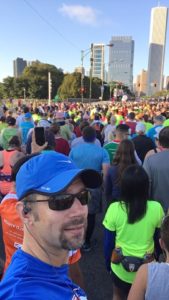 Recently, he pounded the pavement for a different cause: supporting returning military trying to transition into civilian life, and their families.
Br. John completed the Chicago Marathon on Oct. 9, joining with the more than 70 members of Team Salute — and the nearly 40,000 runners who started the race — to complete the 26.2-mile course through Chicago's neighborhoods.
"All that training since June hopefully has prepared me," Br. John said beforehand. "I'm running for our injured veterans and their families."
His participation mattered.
As a team, they raised nearly $190,000 for Salute's mission of delivering short term financial assistance to returning military, helping to bridge temporary income gaps and meet their basic needs.
Will and Mary Beth Beiersdorf started the nonprofit in 2003 to help post 9/11 veterans and their families. Their three sons have attended Saint Viator High School, where students, faculty and members of the Viatorians have supported their mission.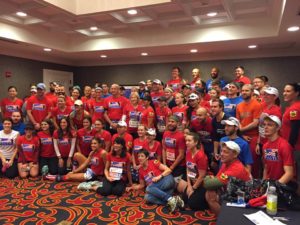 "Thank you for an amazing season of running and giving," Mary Beth Beiersdorf said to members of Team Salute. "Your dedication and  commitment to others brought you to that finish line.
"Know that your miles will turn a plea for help," she added, "into a cry of joy and gratitude."