Strengthening communities though innovative solutions. Building a culture of inclusion. Advancing youth education and empowerment.
Those are just some of the qualities that describe the work of Viator House of Hospitality — and officials with NBC 5, Telemundo Chicago and the Comcast NBCUniversal Foundation, agreed.
Last week, Viator House of Hospitality was announced as one of eight nonprofit organizations in the Chicago area to win one of the Project Innovation 2021 grants.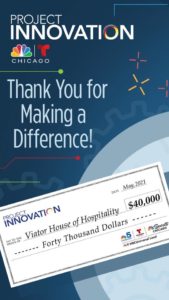 "Thank you NBC and Project Innovation for believing in the men at Viator House," said Fr. Corey Brost, CSV, executive director. "Your $40,000 grant will go along way as we provide educational opportunities in academics, psychological growth, financial management, life skills, cultural adaption and career-building/job search."
Br. Michael Gosch, CSV, started this ministry of hospitality in 2017 and he invited Fr. Brost to serve as executive director. Right from the start, they focused their ministry on welcoming asylum-seeking teens who age out of youth facilities. Were it not for Viator House, these young men would be taken to adult detention centers to wait out their cases.
Since opening, the home has welcomed 71 men from 19 nations, with 49 of them having moved on to live independently or have been reunited with family. The majority have attended school or worked, with many doing both.
While living at Viator House, 10 young men have graduated from high school with five more graduating this year and four are in college.
"Viator House has three main objectives," Br. Gosch says, "to provide hospitality to asylum seekers, reunite them with their families and educate the public about immigrant children being detained."