There was music, inspiring speakers and lively breakout sessions at the National Catholic Youth Conference last week in Long Beach, CA. But the more than 70 teens who attended from Las Vegas came back talking about this highlight: the Eucharistic adoration.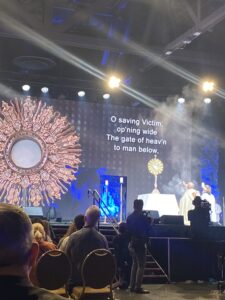 "They loved the whole conference, but the adoration stuck out to them the most," says Associate Juliann Dwyer, who accompanied a group from St. Thomas More Catholic Community. "Bishop Joseph Espaillat from the Bronx in New York led the adoration. He was dynamic."
Bishop Espaillat was the youngest bishop to be ordained back in March, when he was ordained, and he relates to young people through rapping about faith in his podcasts. At the conference, he encouraged his youthful attendees to be in the present and surrender themselves fully to the Lord.
"We're going to worship God like we've never worshipped him before," the Angelus reported Bishop Espaillat saying. "This is your night, young Church!"
This was the first time that the conference took place on the West Coast. Sponsored by the National Federation for Catholic Youth Ministry, it typically takes place every two years in Indianapolis.
Associate Rosy Hartz accompanied teens from St. Viator Catholic Community and Bishop Gorman High School. They were eager to attend the conference in its expansion version, and they were not alone. The Las Vegas teens were among the nearly 3,000 people in attendance.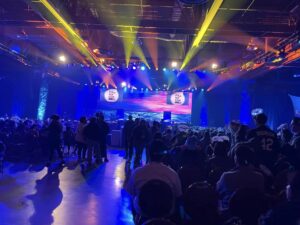 "From the speakers to adoration to the music, our teens and adults fell more in love with Jesus and their faith," Rosy said. "Bringing it out to the west coast for the first time, we knew that the federation put teens and their faith first."