Associate Barbara D'Urso taught religion at Saint Viator High School for many years, and along the way she learned more about the story of Venerable Fr. Louis Querbes, the founder of the Viatorians.
She found his vision and approach to spirituality so inspirational that she joined the Viatorian Community as a lay associate in 2018.
At this week's Viatorian Youth Connection, Barbara was one of three presenters to address the group of young people, along with Br. John Eustice, CSV, and Fr. Corey Brost, CSV. Her topic? Viatorian spirituality in prayer and the Eucharist.
At the outset, Barbara drew from the words of Fr. Querbes himself: "Whenever the world can seem hopeless, we need bold dreamers and visionaries."
"We believe Venerable Louis Querbes' gift of trust, keeping the faith and building communities can be that for us today," Barbara said.
Her other quick take-aways involved prayer: "Start with prayer and keep praying. What kind of prayer is best? All prayer. And it starts with Mass and the Eucharist. If it's not fulfilling, I've found it's usually because I'm not present enough."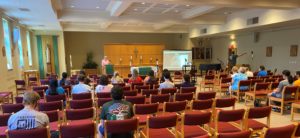 Barbara encouraged the young people to attend Mass, adding that "prayerful participation in the Eucharist does alter us — in a good way."
Finally, she promoted experiencing adoration of the blessed sacrament: "Sometimes we do too much talking in prayer. Adoration invites us to make space for listening for an answer."
Simple advice, but she captivated her audience, many of whom took notes in their journals. From there, the group headed out to experience another aspect of Viatorian spirituality: serving others. They spent the afternoon working on the grounds of Viator House of Hospitality.