Las Vegas native Patrick Aller looks over framed photos of the first 10 groups from the Viatorian Youth Congress. By his own count, he is in all but three of the photos, as a high school delegate, young adult leader and young adult coordinator.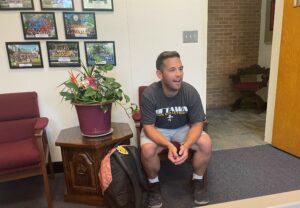 On Wednesday, he arrived at the Viatorian Province Center to begin preparations as the young adult coordinator for next week's youth congress in Bourbonnais. As the young adult in charge — working with Associate Karen Cutler and other Viatorians — he will support the young adult leaders, attend and oversee all sessions, and lead group discussions and prayer.
At 26, and a recent MBA graduate he figures this will be his last time, but his joy at returning to lead this faith-filled week, is contagious.
"I have made so many good friendships with the Viatorians," Patrick says. "To be able to come back, is the chance to rekindle those relationships and strengthen my faith. It just keeps building."
This will be the first in-person youth congress since 2019. Viatorians created VYC in 2010 as a way to bring together teens from various Viatorian ministry sites. Over the years, it has evolved into a leadership experience for high school faith leaders. Typically, over the course of the four-day congress, teens and their young adult leaders are immersed in formation, social justice and leadership training activities.
Throughout the week, young people engage with Viatorians through different types of prayer, daily Masses and even one-on-one interviews. This year's congress will feature a pilgrimage of sorts, as delegates make stops at historic parishes in the Bourbonnais/Kankakee region where Viatorians have served, some for 150 years.
Patrick and fellow VYC veteran, Jean Ang, reflected on their many years of involvement with the congress in a 15-minute podcast recorded in March.
"I loved being a delegate, but becoming a leader gives you a new take on the experience," Patrick said. "You feed the community by bringing yourself, bringing your story — and they feed you back."