The sacrament of Holy Orders and its lesser known, minor orders, came into view Saturday, when Fr. Mark Francis, CSV, Provincial, conferred the ministries of lector and acolyte upon Br. John Eustice, CSV. These so-called, minor orders, are the second step in his formation process toward the priesthood, but they are of particular importance to Viatorians.
The conferral service took place during Mass celebrated at the Province Center chapel in Arlington Heights, drawing Viatorian associates, brothers and priests to attend.
"From my perspective, this moment in my formation journey is a simple one," Br. John said, "that marks the progress of my studies and the desire to serve the people of God through the sacraments."
As the rites indicates, a lector proclaims the word of God and an acolyte helps to prepare the church in the sharing of the Eucharist. These roles reflect the vision of the Venerable Louis Querbes, when he founded the Clerics of St. Viator in 1831. From the start, he envisioned a congregation of catechists, who would teach Christian doctrine and be of service to the holy altar.
"I believe this small moment in time was a reminder to me and the community on how we all are called through the vision of Venerable Louis Querbes to live 'a lively and enlightened faith,' " Br. John added. "It wasn't a major event, but just a step along a path of what is hopefully humble service."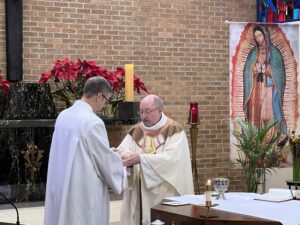 Br. John currently is studying full time for a Master's in Divinity at Catholic Theological Union in Chicago, while also serving part time as the Director of Vocation Ministry for the Viatorians. He began his studies part time in 2020 and went full time in 2021, after having served most recently as Vice President for Identity & Mission at Saint Viator High School.
He lives at Maternity BVM Parish in Bourbonnais, where he will be helping out his confreres, Fr. Jason Nesbit, CSV, and Fr. Moses Mesh, CSV, in his new roles as acolyte and lector, at weekend liturgies and other pastoral events.