St. Viator Parish did its part in responding to the Chicago Archdiocese's 40-day campaign — of prayer, fasting and action — for comprehensive immigration reform: Pastoral Migratoria leaders organized an outdoor immigration Mass.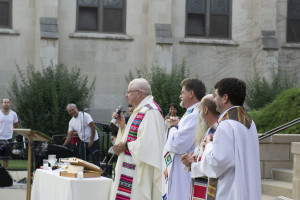 Parishioners already pray the rosary every week and fast on Fridays as part of the 40-day campaign, but they added the Mass as way to gather more people to pray for reform.
"It's our way of being in solidarity with those living in fear of deportation," said Fr. Charles Bolser, CSV, pastor. "We share in their fear and frustration in our antiquated immigration system and we are one with them in praying for comprehensive reform."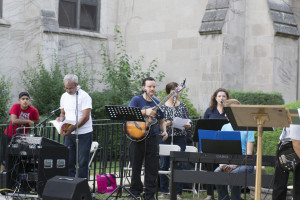 St. Viator Parish already is listed as a local Chicago parish praying for immigration reform with the Archdiocese's Office of Immigrant Affairs and Immigration Education.
The 40-day campaign of prayer, fasting and action was designed as part of the Catholic Campaign for Immigration Reform, and in anticipation of the House of Representatives taking up the immigration bill already passed by the Senate.
It began Aug. 15 — on the feast of the Assumption and Our Lady of San Juan de los Lagos — and will culminate Oct. 19 in an Archdiocesan pilgrimage.