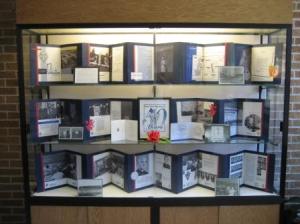 A new exhibit is on display in the Province Center to celebrate the 50th anniversary of the opening of St. Viator High School in Arlington Heights, IL by the Clerics of St. Viator. The photographs and pages are taken from the dedication booklet that was published in 1961. This booklet gives an historical glimpse of the school, the administration, students and ceremonies at that time. To view the full-text booklet, click this link:
SVHS Dedication Oct. 21, 1961
.
Congratulations to St. Viator High School for 50 years of excellence in Catholic education!
The exhibit will be on display from April through June 2011.