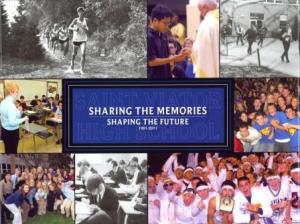 The Viatorian Community Archives received a complimentary copy of the new book published by Saint Viator High School. Saint Viator High School: Sharing the Memories, Shaping the Future 1961-2011 celebrates the school's 50th anniversary and all the people that have been part of this community. Their stories and many other events are shared and highlighted with numerous images throughout the school's history.
Stop by the archives if you'd like to take a look at it! To order a copy of this 120 page full color book, check out the SVHS ordering site.
Congratulations, Saint Viator High School!